World leaders, from US President Barack Obama to Cuba's Raul Castro, will pay homage to the late Nelson Mandela at a national memorial service in South Africa this morning.
Ireland will be represented by President Michael D Higgins, his wife Sabina and Tánaiste and Minister for Foreign Affairs Eamon Gilmore.
One of the Dunnes Stores strikers, who took a stand against apartheid in 1984, will also form part of the official Irish delegation.
Others from that group will attend the event at the FNB stadium in Soweto as ordinary members of the public.
Tens-of-thousands of South Africans will join scores of heads-of-state and members of government to honour the former president, who died last Thursday aged 95.
Thousands camped out around the stadium overnight hoping to get a seat at the service.
The first arrivals at the venue celebrated with song and dance in honour of Mr Mandela.
Security has been noticeably tightened with police and security services in evidence right across the city.
South African President Jacob Zuma will make the keynote address but there will also be contributions from others, including the US president.
Click here to watch live coverage of the service.
Obama to hail inspirational leader
Ben Rhodes, deputy White House national security adviser, told reporters that Mr Obama will use his 10-15 minute speech to talk about what Mr Mandela meant to the people of South Africa and to him personally.             
"His success wasn't preordained. It had to be earned over a lifetime," Mr Rhodes said of Mr Mandela.            
President Obama has said the South African leader's struggle against racism inspired him to become involved in politics.            
In June, Mr Obama took his family to see the Robben Island prison cell where Mr Mandela had been held, a "powerful experience" that Mr Obama reflected upon as he crafted his remarks for the memorial service, Mr Rhodes said.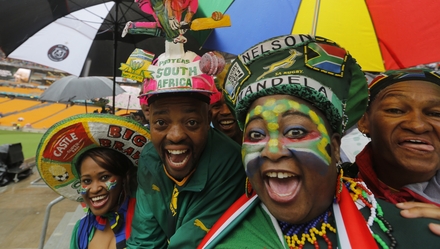 Music and song will dominate proceedings, which are expected to echo the public mood of sadness for the passing of a great icon, but his achievements in life will also be celebrated.
There will be live coverage of the memorial service on RTÉ's Morning Edition from 8.30am.
It will also be broadcast on RTÉ News Now, and on RTÉ Radio 1 Extra.

RTÉ News – News Headlines