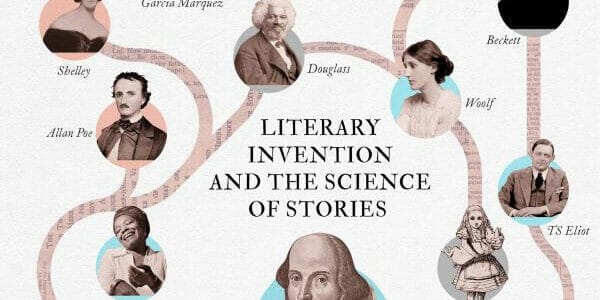 We look at this interesting and wide ranging book by Angus Fletcher. Published by Swift Press, ISBN 978-1800750210, £20 hardback, 2 September 2021, see more on their website here.
Wonderworks: Literary invention and the science of stories by Angus Fletcher
It has been suggested that there are ultimately only about seven different stories out there, and everything since has just been a retelling, blending, and reworking of those key concepts. You can argue with this concept, but it always remains a challenge for all writers to ensure that they are telling either a new story, or at least a fresh reworking of an old classic. Fletcher advocates the concept that there are actually some well used methods and angles of attack in terms of how to deliver stories. He also argues well that the approach to story telling has not been monolithic and that we have seen many new and innovative approaches to telling stories.
Fletcher would even argue that there is an element of science and innovation in how some story tellers, like Joyce, Woolf, Kafka and subsequently Marquez have all radically reworked and challenged how stories can and should be told. You also have to smile when Winnie the Poo raises his head too. In this way Fletcher's at time eclectic, but logical and justified range of stories and authors that he cites does work, and ensures that each chapter is thought provoking and of interest. We found the book to be enjoyable, challenging and a fun read as well as a smart one too. Check it out, well worth a read.
More about the book
A book which will change the way you think about literature – and help you get more out of your bookshelf
Literature is among the mightiest technologies that humans have ever invented, precision-honed to give us what our brains most want and need.
Neuroscientist and literary scholar Angus Fletcher argues that literature is a technology like any other. And the writers we revere—from Homer, Shakespeare, Austen, and others—each made a unique technical breakthrough that can be viewed as both a narrative and neuroscientific advancement. Literature's great invention was to address problems we could not solve: not how to start a fire or build a boat, but how to live and love; how to maintain courage in the face of death; how to account for the fact that we exist at all.  How to deal with the problem of being human.
Wonderworks reviews the blueprints for twenty-five of the most powerful developments in the history of literature. These inventions can be clinically proven to alleviate grief, trauma, loneliness, anxiety, numbness, depression, pessimism, and ennui—all while sparking creativity, courage, love, empathy, hope, joy, and positive change. They can be found all throughout literature—from ancient Chinese lyrics to Shakespeare's plays, poetry to nursery rhymes and fairy tales, and crime novels to slave narratives.
In an enthralling introduction to the new literary field of story science, Wonderworks teaches you everything you wish you learned in your English class. Based on author Angus Fletcher's own research, it is an eye-opening and thought-provoking work that offers us a new understanding of the power of literature. It will help you get more out of your bookshelf and discover new works you might not have considered.
More about Angus Fletcher
Originally from the UK, Angus Fletcher is a professor of story science at Ohio State's Project Narrative, the world's leading academic think-tank for the study of stories. He has dual degrees in neuroscience and literature, received his PhD from Yale, taught Shakespeare at Stanford, and has published two books and dozens of peer-reviewed academic articles on the scientific workings of novels, poetry, film and theatre. His research has been supported by the National Science Foundation, the Mellon Foundation and the Academy of Motion Picture Arts and Sciences. He has done story-consulting for projects for Sony, Disney, the BBC, Amazon, PBS and Universal, and is the author/presenter of the Audible/Great Courses Guide to Screenwriting.
See more stories here
Article by [author-name] (c) Irish Tech News - Read full story here.