Friday 30 May 2014 19.52
1 of 2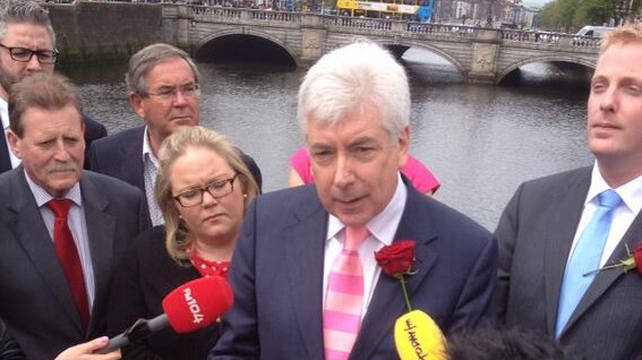 Alex White announced his candidacy on the Rosie Hackett Bridge in Dublin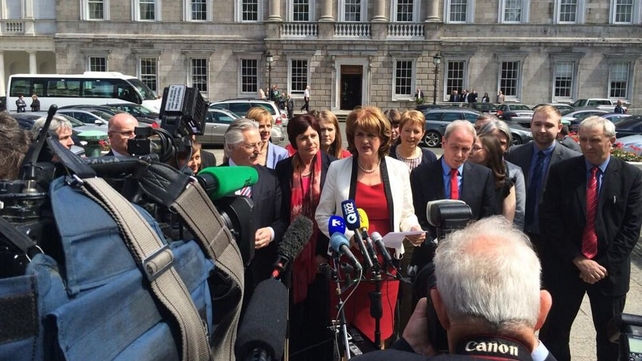 Joan Burton has already announced her intention to run for the leadership role
The Minister of State at the Department of Health Alex White has announced this morning that he is to run for the Labour Party leadership.
Flanked by TDs Michael McNamara, Ciara Conway and Derek Nolan along with Senator John Gilroy, the Minister of State at the Department of Health said the party had strained the loyalty of its supporters.
He also conceded that the Government was too slow to deal with the medical card crisis.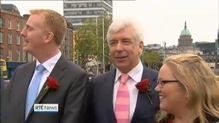 Minister White said parties in Government have to able to maintain their identities and this is an area where Labour has been deficient.
He said there is now a case for the party being much clearer about its identity and what it is seeking to achieve in Government.
Minister White said there has to be parity of esteem between the two parties in Government and there has to be robust discussion and debate about policy issues.
He said parties have to be able to explain why they are doing certain things and benchmark their decisions against their principles and policies.  
Minister White said there is now a case for the party, in its public presentation, being much clearer about its identity and what it is trying to achieve in government.
He said the party leader does not define all policy and he believes a change of leader without a change in policy will be very beneficial. 
Minister White said he has very good leadership, communication and negotiation skills and is a good listener.
Even though he was a minister with some responsibility for medical cards, he said the decisions about the review of discretionary cards were taken by Cabinet.
Speaking on the Six One News Mr White said his department is seeking to change the rules and laws if necessary to introduce a system where people above the income limits but have a real medical need can obtain a medical card.
He also said that anyone who is still having their card reviewed will benefit from the suspension of the review announced yesterday.
Minister White said he never had threatened to resign, but would have supported a motion of no confidence in Eamon Gilmore.
Making the announcement on the Rosie Hackett Bridge in Dublin, Mr White said he can be a bridge to a new generation that must lead Labour in the coming years.
Minister Joan Burton
Minister for Social Protection Joan Burton announced last Wednesday that she was running for the position.
A number of other TDs are also considering whether to run.
Mr Gilmore said on Monday that he was standing down as leader in the wake of big losses for the party in the European and Local Elections.
Three TDs have so far declared their interest in the contest for deputy leader.
Minister of State for Transport Alan Kelly, Minister of State for Research and Innovation Seán Sherlock and Environment Committee Chairman Michael McCarthy all announced their candidacies yesterday.
Nominations for both positions close at midday next Tuesday.
TOP STORIES

RTÉ News – News Headlines