Updated: Wednesday, 16 Apr 2014 07:51 | Comments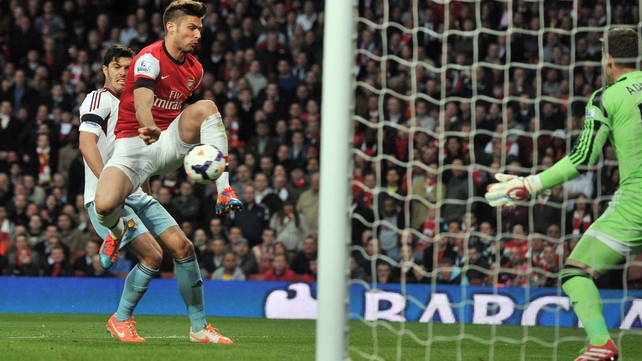 Olivier Giroud turned in a fine display against West Ham
Manager Arsene Wenger challenged his Arsenal side to focus on doing their own job after beating West Ham 3-1 with a wonder goal from Olivier Giroud rather than worry about Everton's form in the race for Champions League qualification.
The FA Cup finalists moved back up into the top four after coming from behind when Matt Jarvis put the Irons ahead at the Emirates Stadium on Tuesday night with a brace from Lukas Podolski either side of Giroud's brilliant finish.
However, Everton could leapfrog them again by beating Crystal Palace on Wednesday, with the race for the top four set to go to the wire.
Wenger, though, maintains Arsenal have to take care of their own results first.
He said: "We know we have to win our games and hope that Everton will slip up somewhere. Let's focus on our job and not look too much at Everton.
"If we need that we'll see when we need it, but at the moment we can only do it if we win our games, so let's focus on that."
Arsenal fell behind in scrappy fashion but Podolski grabbed a crucial equaliser before half-time and Giroud produced the game's defining moment early in the second period.
"We know we have to win our games and hope that Everton will slip up somewhere. Let's focus on our job and not look too much at Everton."
The Frenchman produced a brilliant touch with his left foot, killing Thomas Vermaelen's high ball while under pressure from both Andy Carroll and Winston Reid, before hammering the ball through Adrian's legs with his right.
Podolski went on to make the points safe but it was Giroud who took the post-match plaudits.
"It was a perfect first touch," said Wenger.
"He used his upper body first to make some space and, despite that, he managed to have a great first touch and he finished well."
West Ham manager Sam Allardyce felt his side were the architects of their own downfall after getting a foothold in the match.
"We shoot ourselves in the foot," he said.
"Doing so well to get the first goal, we then could not get into half-time 1-0 up, which was a big disappointment.
"We were then looking comfortable and the second goal sickened me because the performance meant nothing after that.
"All of our hard work has been wasted."
Jarvis was denied an early penalty after he chose to stay on his feet having been caught by Bacary Sagna in the area.
And while the usually coy Wenger admitted he was "grateful", Allardyce fumed that his player had suffered for his honesty.
"For years now, when you stay on your feet referees do not give penalties," he said.
"We get slaughtered for diving or being dishonest, but when someone is honest and does not get what you should get…then you should go down and make the referee's mind up for him."
User contributions and/or comments do not, unless specifically stated, represent the views of RTÉ.ie or RT&Eacute.
Click here for Terms of use

RTÉ Sport sport headlines