Sunday 11 May 2014 07.10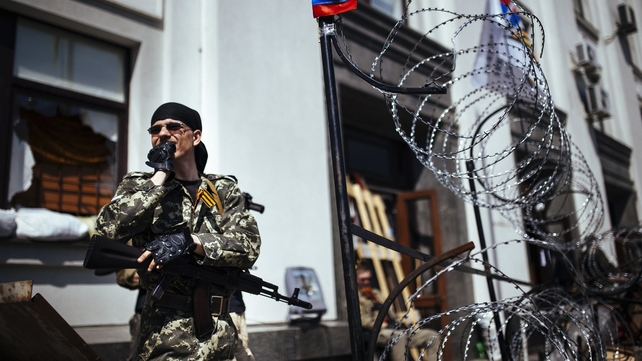 An armed pro-Russian activist stands guard outside a regional state administration building in the eastern Ukrainian city of Lugansk
Voting has opened in referendums called by pro-Russian rebels to split from the rest of Ukraine, polls the US slammed as "illegal" as the West fears they could spark civil war in the former Soviet republic.
The poll is being carried out in the provinces of Donetsk and Lugansk where the insurgents hold over a dozen towns.
The referendums are "illegal under Ukrainian law and are an attempt to create further division and disorder," State Department spokesperson Jen Psaki said in a statement late last night.
"If these referenda go forward, they will violate international law and the territorial integrity of Ukraine. The United States will not recognize the results of these illegal referenda."
Ms Psaki also said that Washington is "disappointed" that the Russian government has failed to use its influence "to forestall" the vote since President Vladimir Putin on 7 May suggested that it be postponed.
On that day "he also claimed that Russian forces were pulling back from the Ukrainian border. Unfortunately, we still see no Russian military movement away from the border."
Ms Psaki added that Kremlin-backed social media and news stations encouraged eastern Ukrainian residents to vote, and Russian state media has strongly backed the vote "with no mention of Putin's call for postponement."
Although a 'Yes' vote would likely only be recognised by Russia, it would undermine a presidential election Ukraine is to hold in two weeks, which the United States and the European Union see as crucial to restoring stability.
Ms Psaki said that the international community must focus on supporting Ukraine's May 25 presidential election, which is "proceeding apace and in accordance with international standards."
Yesterday, France and Germany jointly threatened "consequences" on Russia if the election is disrupted.
Ms Psaki said that Russia's leadership "must know that if it continues to destabilize eastern Ukraine and disrupt this month's presidential election, we will move quickly to impose greater costs on Russia."
Moscow "can still choose to implement its Geneva commitments, as well as follow through on President Putin's statement of 7 May. We call on them to do so," Ms Psaki concluded.
TOP STORIES

RTÉ News – News Headlines