Catholic Archbishop of Dublin Diarmuid Martin has described the capital as "deeply divided".
He said he is "very deeply concerned about a deeply divided Dublin where on the one hand there is rejoicing at increased spending over the Christmas period and on the other hand where the number of those homeless and hungry is actually increasing."
Dr Martin was speaking a day after homeless man John Corrie was found dead in a doorway on Molesworth Street near Leinster House.
The Archbishop called for a public summit to address the immediate question of emergency accommodation for the homeless.
Speaking on RTÉ's Morning Ireland programme he said he would hate that the death of this man would be a one day outrage.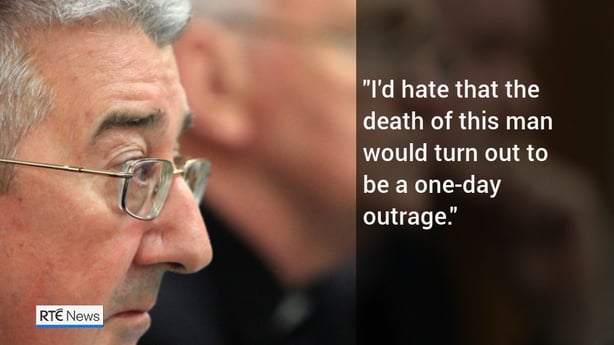 Dublin Lord Mayor Christy Burke has said he is willing to host and facilitate a homeless summit.
Responding to the Archbishop's call for a public summit, Mr Burke said he is more than willing to facilitate it in the next 72 hours.
He said it has to be a summit of action and a senior representative from the Taoiseach's department must be present as well as some homeless groups.
It must be a summit of action and not ideas, he added.
Brother Kevin Crowley of the Capuchin Day Centre in Dublin has said he does not see why people who are sleeping rough cannot be given accommodation in the short-term.
Brother Kevin appealed to the Government to take homeless people off the streets particularly in the run-up to Christmas.
Speaking on RTÉ's Morning Ireland, he said there was no point in allocating money to organisations to give homeless people accommodation when there was no accommodation specifically available to them.
"There's so many places vacant, so many different apartments around the city, why not use those up and give the people dignity.
"Some of these people that I meet, the mothers and children, they leave those rooms at nine o'clock and they are walking the streets until eight in the evening time. That is no way to have respect for our children," Brother Kevin said. 
Meanwhile, Minister for Public Expenditure and Reform Brendan Howlin has said the death of the homeless man in Dublin was beyond tragic and is a horror.
He said there is an urgent crisis in relation to people sleeping on the streets and he would embrace any ideas coming from the Archbishop of Dublin or anyone else to ensure we do not have another tragedy.
Also speaking on RTÉ's Morning Ireland, Minister for Agriculture Simon Coveney said he was shocked by what had happened.
"What happened yesterday was shocking, that somebody would die on our streets outside parliament and Government needs to respond to that and we are trying, but there are no simple quick fix solutions that can be implemented overnight.
"There are some quick fix solutions that are necessary to provide more emergency beds quickly, to ensure if we get a very deep cold snap over Christmas, in terms of weather, that we can actually help people to come off streets," Mr Coveney said.
He added that the main problem is the lack of houses and said there had effectively no houses built over the last five or six years in Ireland and said this had to change.
He said the Government launched a €3.8bn housing commitment last year which will build 18,000 houses before the end of 2017.
Mr Coveney said the Government is currently working on the 655 vacant housing units in the city to make them ready for people who do not have homes.
Work had already started on 245 of those and they will be ready within months, the minister added.
In the meantime, he said there had also been a €10m increase in terms of support for people and charities who give provisions for homeless people.
The woman who discovered the man's body said she became concerned about him because he looked to be lying in an awkward position on the ground.
Speaking to Ryan Tubridy on 2fm this morning, Sophie Pigot said that when she checked the man's pulse he was "ice cold" and she then realised that the man was not alive. 
She alerted the garda on duty at Leinster House who called an ambulance.
She said she then went to Buswell's Hotel across the road where she got a white sheet to cover the man. 
Ms Pigot said she was extremely sad and shocked that something like this could happen in Ireland. 
She said she could not sleep last night thinking that it was 24 days to Christmas and many people in Ireland are living on the streets. 
She said that people should notice that homeless person at the ATM this Christmas and realise that they are a person. 

RTÉ News – News Headlines