Monday 31 March 2014 11.40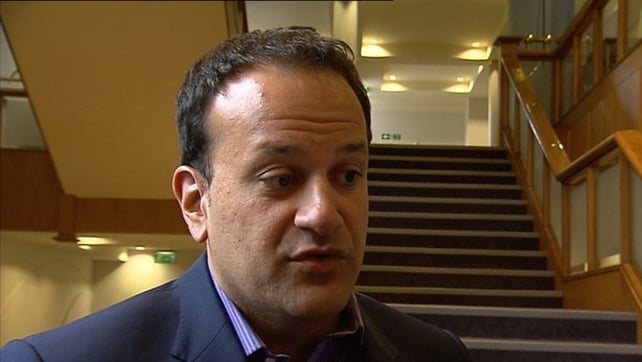 Leo Varadkar said he has full confidence in Alan Shatter
Minister for Transport Leo Varadkar has said that he is concerned that former garda commissioner Martin Callinan knew of unlawful recordings in November and did not tell the Minister for Justice at that point.
Mr Varadkar said an internal investigation was set up rather than informing Alan Shatter as the former commissioner should have done.
He added that there had "even been inquiries about destroying the tapes".
Mr Varadkar said that this was much more of an issue if concern than anything else.
He said he has full confidence in Mr Shatter and that the "opposition had got it all wrong".
He said "instead of making political capital" and attacking Mr Shatter they should be asking why the gardaí did not inform the Government earlier. 
Mr Callinan wrote to the Department of Justice at the beginning of March about the recording and retention of telephone conversations in garda stations.
In a letter to the Secretary General of the department, Mr Callinan asked that Mr Shatter be informed of details of the recordings.
In the letter he also says that he consulted with the Attorney General on 11 November 2013.
The letter, entitled 'Recordings of Telephone Conversations made and retained in Garda Stations', says the recordings, which are now in court proceedings, took place in the 1990s.
They are of members of the Garda Síochána and members of the public.
The former commissioner said the systems were set up in the 1980s to enable gardaí to record calls to and from control rooms; in particular 999 calls, bomb threats and other messages.
The practice continued in some stations over the years with recordings retained in the garda stations.
The original recording systems were replaced by dictaphones during the 1990s and by another system in 2008.
In the letter, Mr Callinan also says that he directed that routine recording of non 999 calls to garda stations cease and confirmed in the letter to the department that all recordings except 999 calls ceased nationally on 23 November 2013.
The total number of tapes is over 2,400 and Mr Callinan says in the letter that he consulted with the AG and expected to consult with the Data Protection Commissioner.
Mr Varadkar was speaking at an event to mark the removal of the €3 air travel tax from tomorrow.
TOP STORIES

RTÉ News – News Headlines