Updated: Tuesday, 22 Apr 2014 22:03 | Comments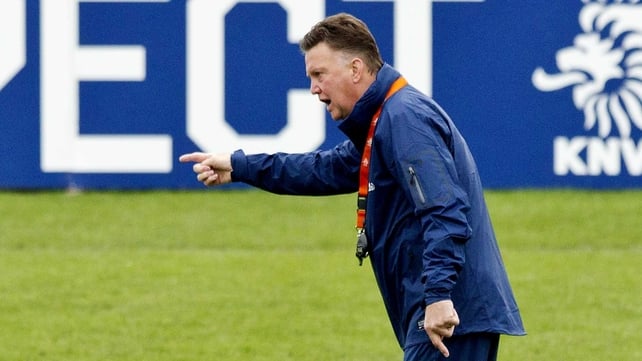 Netherlands boss Louis van Gaal has managed Ajax, Barcelona, AZ and Bayern Munich at club level
Louis van Gaal has emerged as the early favourite to replace David Moyes after he was axed by Manchester United just 10 months into his six-year contract.
Moyes paid the price for a dreadful campaign when he was dismissed following a meeting with United vice-chairman Ed Woodward at the club's training ground on Tuesday.
United's most-decorated player Ryan Giggs, a player-coach under Moyes, will take charge "until a permanent appointment can be made", the club said.
Netherlands head coach Van Gaal is out of contract after the World Cup.
Sources close to the club have made it clear the fact that Van Gaal will be in Brazil with the Netherlands this summer would not be an obstacle to the Dutchman taking over.
Talks could take place over the coming days as United want to install Moyes' successor quickly.
It is easy to see why United are interested in Van Gaal. The Dutchman lifted the Champions League with Ajax and he also won titles in Germany and Spain.
The former Barcelona and Bayern Munich coach is also used to working with big-name players and attracting big signings – neither of which were part of Moyes' track record.
The 62-year-old has made it clear he wants to move to the Barclays Premier League when his contract expires and is the bookmakers' overwhelming favourite.
Van Gaal was linked with the Tottenham job, but United's illustrious history, and an apparent £150million transfer kitty, make the vacancy at Old Trafford far more attractive.
Borussia Dortmund coach Jurgen Klopp ruled himself out of the running, telling the Guardian: "Man United is a great club and I feel very familiar with their wonderful fans. But my commitment to Borussia Dortmund and the people is not breakable."
Pep Guardiola was considered when Alex Ferguson retired last summer, but the Spaniard went to Bayern Munich, where he intends to remain.
"I want to stay at Bayern for two more years," Guardiola told a press conference.
"Bayern are my team, I'm comfortable here."
Other potential candidates include Paris Saint-Germain manager Lauren Blanc, who played for United for two years, Ferguson's former assistant Carlos Queiroz, whose contract as Iran coach expires in the summer, and highly-rated Atletico Madrid manager Diego Simeone.
"My commitment to Borussia Dortmund and the people is not breakable" – Jurgen Klopp's loyalty to Borussia Dortmund would appear to be unwavering   
For now, Giggs is the man charged with restoring some pride to United following what has been a truly awful campaign.
Giggs is expected to be assisted by Nicky Butt, who is currently in charge of the under-19s and also coaches the reserves.
Phil Neville and Chris Woods remain in their posts as first-team coaches, but Steve Round and Jimmy Lumsden – both brought in by Moyes last summer – have been fired.
A throng of camera crews and photographers turned up at the AON Training Complex, but they had missed Moyes, who slipped in during the early hours of Tuesday morning.
Moyes was sacked shortly after 8am, but the 50-year-old remained at the training ground for a few hours so he could thank and say goodbye to his players.
He then left via the back exit away from the cameras.
Moyes knew he was on his way out when reports emerged on Monday claiming he had lost the faith of United's owners, the Glazer family.
Exactly one year ago United won a record 20th title with four games to spare. Now they are in seventh, 23 points behind leaders Liverpool.
The list of unwanted records broken by Moyes is as embarrassing as it is long.
United are guaranteed to end the season with their worst points total in Premier League history, they have failed to qualify for the Champions League for the first time in almost two decades while Moyes' home record is the worst of any United boss since 1978 when Dave Sexton was in charge.
That is why Moyes will go down in history as the third shortest serving United boss behind Walter Crickmer and Lal Hilditch.
Moyes never looked capable of dealing with the pressure of being United boss, he struggled in the transfer market, and his reign was dogged by rumours – denied by the Scot – that he did not get on with a number of his players.
Perhaps it was telling that not one United player tweeted about Moyes' dismissal following the announcement.
Former United striker Michael Owen did take to the social media platform and he summed up the situation perfectly.
"Huge news at Old Trafford but with the summer looming and a huge transfer kitty available, United had to be 100% Moyes was the right man," the former United striker said.
"Evidently they didn't have the confidence in him in which case makes the timing absolutely right. Now the big question is who's next?"
User contributions and/or comments do not, unless specifically stated, represent the views of RTÉ.ie or RT&Eacute.
Click here for Terms of use

RTÉ Sport sport headlines