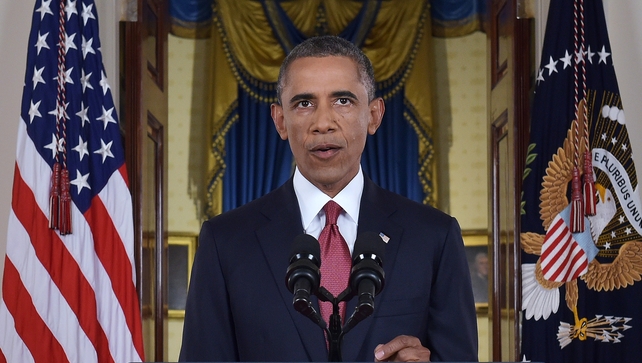 President Obama Obama says he will allow no 'safe haven' for Islamic State militants "wherever they exist"
President Obama has said he is prepared to order air strikes on Syrian territory as part of an expanded counter-terrorism plan to confront the Islamic State jihadist group that is operating in both Syria and Iraq.
Mr Obama, who began ordering air strikes in Iraq last month, urged Congress in a national television address to give him "additional authorities and resources to train and equip" the Syrian opposition.
"I will not hesitate to take action against ISIL in Syria, as well as Iraq," Mr Obama said while discussing the prospect of expanded airstrikes.
He said "Working with the Iraqi government, we will expand our efforts beyond protecting our own people and humanitarian missions, so that we're hitting ISIL targets as Iraqi forces go on offense."
The President said "This is a core principle of my presidency: if you threaten America, you will find no safe haven."
Mr Obama said another 475 troops are to join hundreds of US troops who are already in Iraq studying how to help Iraqi government and Kurdish regional forces in their fight against the jihadist threats.
He said "Now that those teams have completed their work and Iraq has formed a new unity government, we will send an additional service members to Iraq."
"As I have said before, these American forces will not have a combat mission – we will not get dragged into another ground war in Iraq," he added, seeking to reassure his target audience, the US public.
"But they are needed to support Iraqi and Kurdish forces with training, intelligence and equipment."

RTÉ News – News Headlines