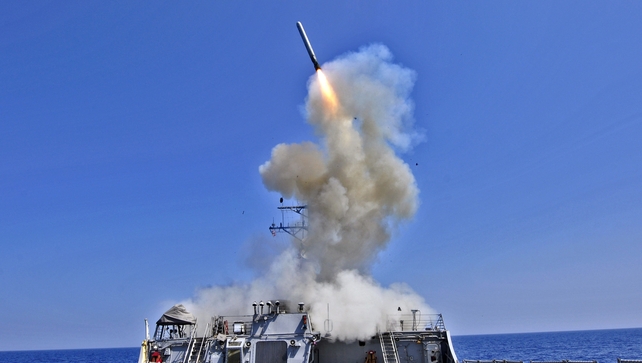 US forces undertaking military action against (Islamic State) terrorists in Syria using a mix of fighter, bomber and Tomahawk Missiles
The United States and partner nations are carrying out the first air strikes against Islamic State targets in Syria.
The Pentagon has said the ongoing operations mark the opening of a new, far more complicated front in a battle against the militants.
Pentagon press secretary Rear Admiral John Kirby, said in a statement that "I can confirm that US military and partner nation forces are undertaking military action against Islamic State terrorists in Syria using a mix of fighter, bomber and Tomahawk Land Attack Missiles."
He said "Given that these operations are ongoing, we are not in a position to provide additional details at this time."
The Rear Admiral did not disclose which nations joined the United States, which has been building a coalition to combat an extremist Sunni Muslim force that has seized large expanses of territory in Iraq and Syria and proclaimed a caliphate erasing borders in the heart of the Middle East.
But a US official, speaking on condition of anonymity, told Reuters there were Arab partners helping to carry out the strikes which could include around 20 targets.
The official said some of the strikes employed Tomahawk missiles launched from at least one US ship at sea.
The strikes come hours before President Obama goes to New York for the UN General Assembly where he will try to rally more nations behind his drive to aggressively take on Islamic State.
General Lloyd Austin, commander of the US military's Central Command, made the decision to conduct the strikes under authorisation granted by President Obama, Rear Admiral Kirby said.
He added "We will provide more details later as operationally appropriate."

RTÉ News – News Headlines