Monday 21 April 2014 20.03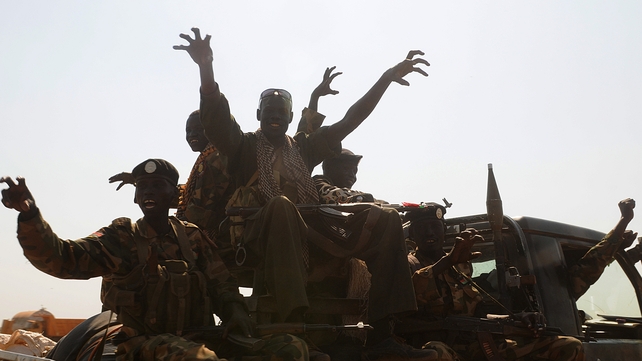 Members of South Sudan's former rebel army the Sudan People's Liberation Army (SPLA) cheer after capturing the key north oil city of Bentiu from rebels on January 12, 2014
The United Nations has called for an investigation into the massacre of hundreds of civilians by rebel troops in northern South Sudan.
According to the UN mission in South Sudan, troops loyal to sacked vice president Riek Machar carried out the massacre last week in the oil town of Bentiu.
More than 200 people were killed in a mosque and others in a church, in abandoned UN buildings and a hospital.
The UN peacekeeping mission in South Sudan (UNMISS) "strongly condemns these targeted killings," said UN spokesman Stephane Dujarric.
"The mission calls for these atrocities to be fully investigated and for the perpetrators and their commanders to be held accountable," he said.
Reminding the parties to the conflict of their obligation to protect civilians, Dujarric said the mission "calls on them to immediately cease targeting unarmed civilians and respect the cessation of hostilities agreement signed in January."
The latest massacre was one of the worst since fighting erupted within the military on December 15 between troops loyal to President Salva Kiir and those backing Machar.
It then spread to the rest of the country, accompanied by numerous atrocities against civilians.
The fighting, which has already left several thousand dead, has taken on ethnic dimension with roots in long-held hostilities between the Dinka and Nuer people, respectively represented by Kiir and Machar.
TOP STORIES

RTÉ News – News Headlines