Tuesday 18 March 2014 12.39
1 of 2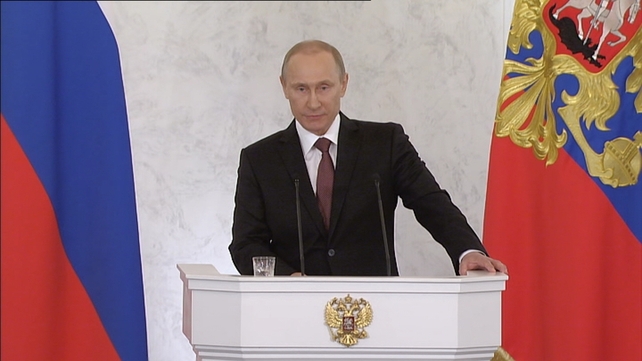 Vladimir Putin is addressing a special joint session of parliament today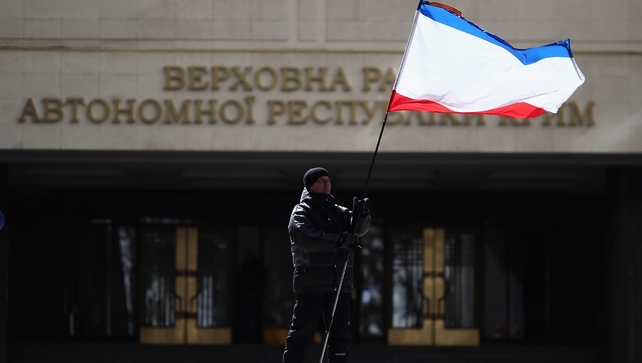 A man holds a Crimean flag in front of the Crimean parliament in Simferopol, Ukraine
Russian President Vladimir Putin has delivered a fiercely patriotic speech in the Kremlin, describing Crimea as an inseparable part of Russia.
Addressing a special joint session of parliament in Moscow, Mr Putin accused the West of reverting to Cold War containment by trying to stop the Ukrainian region joining Russia.
He defended Russia's actions in the crisis over the Black Sea peninsula, which has pushed relations with the West to a post-Cold War low.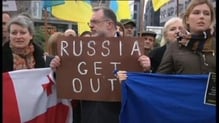 To the Russian national anthem, Mr Putin and Crimean leaders signed a treaty on making Crimea part of Russia.
"The (Crimean) issue has a vital importance, a historic importance for all of us," Mr Putin said in his address to members of his government, business leaders and Crimean leaders.
"In the hearts and minds of people, Crimea has always been and remains an inseparable part of Russia.
"This commitment, based on truth and justice, was firm, was passed from generation to generation," he said in a speech lasting for 47 minutes.
He depicted the Black Sea peninsula as a holy place for Russia and accused the West, which has imposed sanctions on some Russians and Ukrainians, of crossing a red line.
He dismissed concerns that Russia would try to seize other regions in Ukraine.
But he added: "Our Western partners, headed by the United States, prefer not to be guided by international law in their practical policies, but by the rule of the gun."
"They have come to believe in their exceptionalism and their sense of being the chosen ones. That they can decide the destinies of the world, that it is only them who can be right."
Mr Putin signed a decree recognising Crimea as an independent state yesterday.
It came one day after it voted overwhelmingly for union with Russia in a referendum which the West said was illegitimate.
Mr Putin launched a fierce attack on the new leadership in Kiev, which ousted Moscow-backed President Viktor Yanukovych on 22 February, saying they had opened the door to "neo-Nazis".
"Those who were behind recent events, they were … preparing a coup d'etat, another one. They were planning to seize power, stopping at nothing. Terror, murder, pogroms were used," he said.
"It is primarily they who are deciding how Ukraine lives today. The so-called Ukrainian authorities introduced a scandalous law on the revision of the language policy, which directly violated the rights of the national minorities."
Earlier, Crimean Deputy Prime Minister Rustam Temirgaliyev said the region will adopt the Russian rouble as the official currency and drop the Ukrainian hryvnia from April.
Crimean authorities had earlier said the hryvnia would remain an official currency until 2016.
The US and EU have imposed personal sanctions on Russian and Crimean officials involved in the seizure of Crimea from Ukraine.
Within hours of the referendum result, the Crimean parliament formally asked that Russia "admit the Republic of Crimea as a new subject with the status of a republic".
Ukraine and the West said the referendum, held under armed Russian occupation, violated Ukraine's constitution and international law.
US President Barack Obama slapped sanctions on 11 Russians and Ukrainians blamed for the seizure, including Mr Yanukovych, and Vladislav Surkov and Sergei Glazyev, two aides to Mr Putin.
Mr Putin himself, suspected in the West of trying to resurrect as much as possible of the former Soviet Union under Russian leadership, was not on the blacklist.
A White House spokesman declined to rule out adding him at a later stage.
Amid fears that Russia may move into eastern Ukraine where there is a significant Russian-speaking community, Mr Obama warned that "further provocations" would only increase Russia's isolation and exact a greater toll on its economy.
"If Russia continues to interfere in Ukraine, we stand ready to impose further sanctions," he said.
A senior US official said Mr Obama's order cleared the way to impose sanctions on people associated with the arms industry and targets "the personal wealth of cronies" of the Russian leadership.
In Brussels, the EU's 28 foreign ministers agreed to subject 21 Russian and Ukrainian officials to visa restrictions and asset freezes for their roles in the events. They included three Russian military commanders in Crimea and districts bordering on Ukraine.
There were only three names in common on the US and European lists – Crimean Prime Minister Sergey Aksyonov, Crimean parliament Speaker Vladimir Konstantinov and Leonid Slutski, chairman of the Russian Duma's committee on the Russian-led Commonwealth of Independent States, or CIS, grouping former Soviet republics.
The EU blacklisted My Yanukovych earlier this month.
The US list appeared to target higher-profile Russian officials close to Mr Putin, including a deputy Russian prime minister, while the EU went for mid-ranking officials who may have been more directly involved on the ground.
The US and the EU said further steps could follow in the coming days if Russia does not back down and if it formally annexes Crimea.
Mr Obama said he would travel to Europe next week and that Vice President Joe Biden was heading to Poland and Lithuania to reassure US allies in the region.
A senior Obama administration official said there was "concrete evidence" that some ballots in the Crimea referendum arrived in some Crimean cities pre-marked.
Russian Deputy Prime Minister Dmitry Rogozin, who was named on the White House sanctions list, suggested that the measures would not affect those without assets abroad.
Meanwhile, Minister of State for European Affairs Paschal Donohoe has said the ultimate objective of the EU in how it approaches the crisis in Ukraine is to continue in dialogue with Russia.
Speaking on RTÉ's Morning Ireland, Mr Donohoe rejected suggestions that there was disagreement between international leaders about how sanctions imposed on Russian and Crimean officials involved in the seizure of Crimea would work.
Mr Donohoe said there was very clear agreement that these sanctions should be put in place and that the individuals concerned should be targeted.
However, he said the ultimate objective of the EU was to continue negotiations with Russia to lead to a peaceful solution.
Minister Donohoe said EU leaders would continue to argue and be clear at a meeting of heads of state later this week that the referendum on the status of Crimea was illegal.
Mr Putin's senior foreign policy advisor Yuri Ushakov said Russia views Western sanctions with a "sense of irony and sarcasm".
TOP STORIES

RTÉ News – News Headlines