Friday 24 January 2014 06.28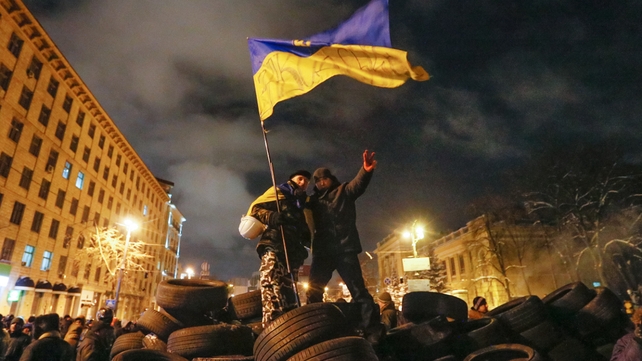 Protesters stand on top of a barricade in Kiev (Pic: EPA)
Ukrainian anti-government protesters have erected more street barricades in the capital Kiev overnight.
Opposition leaders emerged empty-handed from talks with President Viktor Yanukovych that were aimed at defusing two months of unrest.
Opposition leader Vitali Klitschko said that Mr Yanukovych had yielded nothing in a second round of talks yesterday, and he voiced fears that the impasse could now lead to further bloodshed.
At least three protesters were killed early on Wednesday in Kiev – two from gunshot wounds – after clashes between protesters and riot police.
Scores of others on both sides have been injured – many of them with eye injuries caused by flying projectiles and police rubber bullets.
After speaking first to protesters manning barricades at the main confrontation point with police, Mr Klitschko then went to Kiev's Independence Square where he declared: "Hours of conversation were spent about nothing.
"There is no sense sitting at a negotiating table with someone who has already decided to deceive you.
"I earnestly wish that there will be no bloodshed and that people are not killed … I will survive, but I am afraid there will be deaths, I am afraid of this," the boxer-turned-politician said.
Three opposition politicians – Mr Klitschko, former economy minister Arseny Yatsenyuk and far-right nationalist Oleh Tyahnibok – had tried to wring concessions from Mr Yanukovych that would end two months of street protests against his rule.
Hundreds of thousands took to the streets in Kiev after Mr Yanukovych backed away from signing a free trade deal with the European Union, which many people saw as the key to a European future, in favour of financial aid from Russia.
But the movement has since widened into broader protests against perceived misrule and corruption in the Yanukovych leadership.
Protesters have also been enraged too by sweeping anti-protest legislation that was pushed through parliament last week by Yanukovych loyalists in the assembly.
Earlier yesterday, Mr Yanukovych had suggested he might be prepared to make concessions to the opposition when he called for a special session of parliament next week to consider the opposition demands and find a way out of the crisis.
But this did not impress opposition leaders.
After several hours, the three opposition leaders emerged to say he had made no concessions at all and they ordered their followers to take immediate action to broaden the zone of protest in Kiev and in other cities.
Witnesses said that in response to the opposition call, about 1,000 demonstrators moved away from Independence Square and began to erect new barricades from sandbags packed with snow closer to the presidential headquarters.
TOP STORIES

Top Stories – Google News