Wednesday 19 February 2014 02.50
1 of 5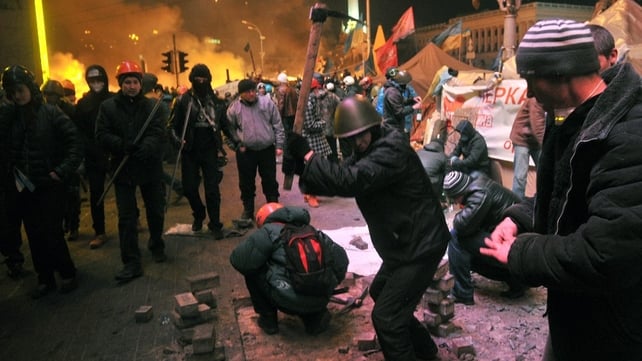 Protesters dig up paving stones to use as missiles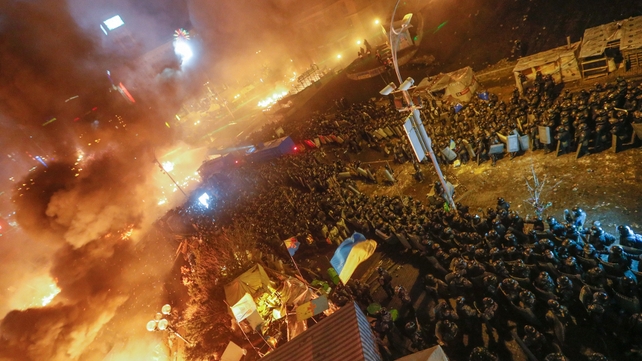 Riot police launch assault on main protest camp in Kiev (Pic: EPA)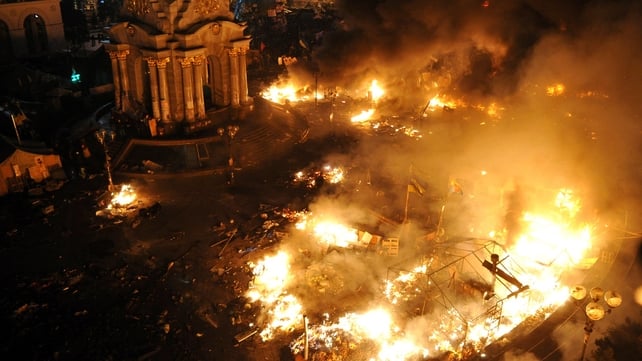 Fires rage in the Independence Square (Pic: EPA)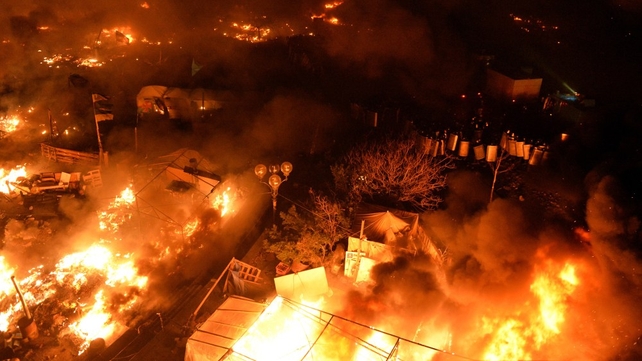 Vitaly Klitschko told supporters Independence Square was 'an island of freedom'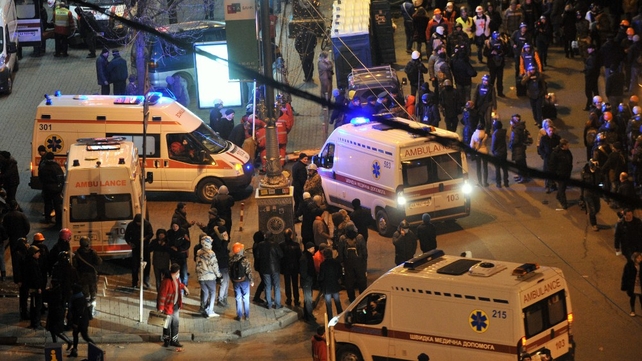 Ambulances converge on Independence Square as clashes continue
Ukrainian riot police charged protesters occupying a central Kiev square after the bloodiest day since the former Soviet republic won its independence more than 22 years ago.
 At least 21 people, including seven policemen, died during hours of violence between security forces and civilians who have staged protests against President Viktor Yanukovych since last November.
Many were killed by gunshot and hundreds more were injured, with dozens of them in a serious condition, police and opposition representatives said.
The building used by anti-government protesters in the square as their headquarters is on fire.
Television footage showed several floors of the nine-storey Trade Union building were on fire with flames and smoke coming out of the windows.
Despite Western demands for restraint and dialogue, the state security service first set a deadline for the demonstrators to end disorder or face "tough measures".
Police then advanced slowly into the square.
Protesters responded with petrol bombs, fireworks and stones.
Police threw stun grenades at the protesters separated from them by a line of burning tents, tyres and wood.
Earlier, opposition leader Vitaly Klitschko, reacted defiantly, telling supporters on the square: "We will not leave here. This is an island of freedom. We will defend it."
The riot police moved in hours after Moscow gave Ukraine $ 2 billion in aid for its crippled economy which it had been holding back to demand decisive action to crush the protests.
Nationwide demonstrations erupted after Mr Yanukovych bowed to Russian pressure and pulled out of a planned far-reaching trade agreement with the European Union, deciding instead to accept a Kremlin bailout for the heavily indebted economy.
Western powers warned Mr Yanukovych against trying to smash the pro-European demonstrations, urging him to turn back to Europe and the prospect of an IMF-supported economic recovery, while Russia accused them of meddling.
Government buildings seized in western cities
Anti-government protesters seized government buildings in a few cities in the western part of the country, local media and the police said.
              
Police said in a statement that protesters had seized regional administration headquarters in Ivano-Frankivsk and Lviv.
              
The website of Ukrainska Pravda said that protesters torched the main police station in Ternopil and were trying to seize the headquarters of regional administration.
              
Opposition politician Oleksander Aronets said that protesters had also seized the local prosecutor's office.
              
"Protesters occupied the prosecutor's office in Ternopil and burnt all cases against Ukrainian heroes!," he said on his Facebook profile.
Biden urges Ukrainian president with pull back forces
Vice President Joe Biden called Mr Yanukovych to express grave US concern at the violence in Kiev.
He urged him to pull back government forces and exercise maximum restraint.
Mr Biden made clear to Mr Yanukovych that the United States condemns violence by any side, "but that the government bears special responsibility to de-escalate the situation," a White House statement said.
"The vice president further underscored the urgency of immediate dialogue with opposition leaders to address protesters' legitimate grievances and to put forward serious proposals for political reform," the statement said.
It said the United States is committed to supporting efforts to promote a peaceful resolution to the crisis in a way that "reflects the will and aspirations of the Ukrainian people."
TOP STORIES

RTÉ News – News Headlines