Friday 25 April 2014 06.49
1 of 2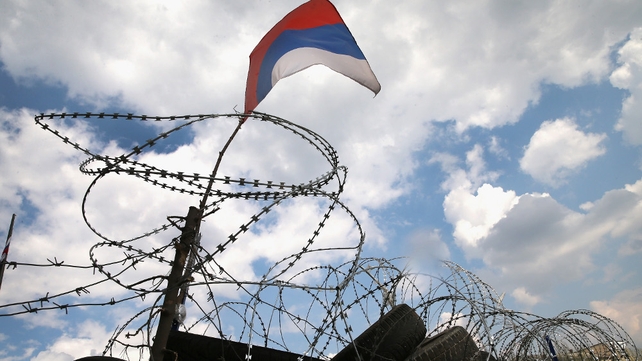 The US is growing increasingly concerned about the situation in Ukraine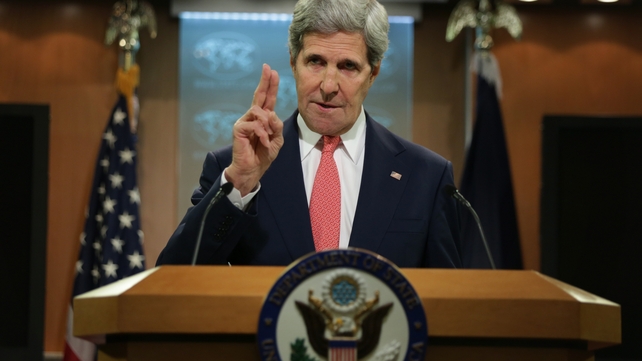 John Kerry warned Russia not to invade Ukraine
US President Barack Obama is expected to speak to several European leaders today to try to nudge the EU towards fresh sanctions against Russia over Ukraine, sources familiar with the matter said.
Disagreements among European Union nations on whether to impose new economic sanctions on Russia have held up punitive steps by the United States.
However, Washington could also act on its own, sources said on condition of anonymity.
US officials have grown increasingly impatient with what they describe as Russia's failure to live up to its commitments in an agreement reached in Geneva on 17 April to try to de-escalate the crisis in Ukraine.
In a sign of growing US concern about Ukraine, Secretary of State John Kerry issued what amounted to a warning to Russia not to invade.
Russia has about 40,000 troops on its border with Ukraine, some of which staged military exercises yesterday.
Mr Kerry said: "Following today's threatening movement of Russian troops right up to Ukraine's border, let me be clear.
"If Russia continues in this direction, it will not just be a grave mistake, it will be an expensive mistake," Mr Kerry added at the State Department.
The US accuses Russia of backing separatists in eastern Ukraine as part of a deliberate attempt to destabilise the region, undermine elections planned for next month, and gain greater influence over Kiev.
Russia seized and annexed the Crimean peninsula from Ukraine last month after President Vladimir Putin overturned decades of post-Cold War diplomacy by announcing the right to use military force in neighbouring countries.
Under the accord struck by Russia, Ukraine, the US and EU in Geneva last week, illegal armed groups are supposed to disarm and go home, including rebels occupying about a dozen buildings in the largely Russian-speaking east.
The rebels have shown no sign of retreating.
"As President Obama reiterated earlier today, we are ready to act," Mr Kerry said yesterday.
When he announced the Geneva agreement a week ago, the US Secretary of State had said that if Russia did not take steps "over the course of these next days" there would be additional sanctions as a consequence.
Several sources said that the United States did not, however, wish to act on its own.
Washington's basic reasoning is that the practical effect on Russia's economy and markets, as well as the symbolic import of further sanctions, will be greater if the US is seen to be acting in concert with the EU.
The US has so far imposed three rounds of sanctions in connection with the unrest in Ukraine; two aimed at Russian targets and a third focused on Crimean individuals and a Crimean gas company.
The EU is highly dependent on Russian gas deliveries, and the crisis over Ukraine has fanned concerns about future supply.
Russia is also an important market for many EU exporters, notably in Germany.
On 21 March, the EU imposed sanctions on 12 Russians and Ukrainians because of Moscow's takeover of Crimea, bringing the number of people targeted by EU asset freezes and travel bans to 33.
On 14 April, the EU agreed to expand the list of people subject to such penalties, but the bloc has yet to agree on the names or to actually impose the sanctions.
The US is frustrated at the reluctance of some European nations, notably Germany and Italy, to impose a new round of economic sanctions on Russia.
Sources said Mr Obama was expected to speak in a conference call later with British Prime Minister David Cameron, French President Francois Hollande, German Chancellor Angela Merkel and Italian Prime Minister Matteo Renzi to discuss the issue.
Mr Obama is in Asia on a four-nation trip.
Speaking in Tokyo yesterday, he blamed Russia for failing to carry out the Geneva deal and said he was ready to impose new sanctions.
TOP STORIES

RTÉ News – News Headlines