Saturday 22 February 2014 07.26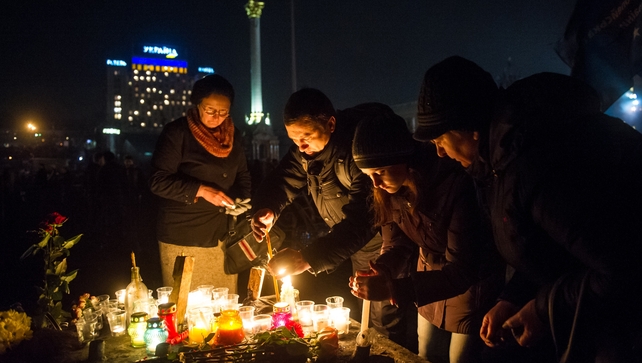 People light candles as they mourn opposition protesters were killed during clashes with police in the centre of Kiev
Thousands of protesters have remained in Kiev's Independence Square overnight, despite a deal being signed by Ukraine President Viktor Yanukovych and opposition leaders, aimed at ending the country's political crisis.
Last night, the United States welcomed the agreement but said its swift implementation was key.
US President Obama discussed the situation in Ukraine during a telephone conversation with Russia's President Vladimir Putin.
A US State Department spokesperson said Mr Putin told President Obama that Russia wants to be part of the implementation process.
"They agreed that the agreement reached today needed to be implemented quickly, that it was very important to encourage all sides to refrain from violence, that there was a real opportunity here for a peaceful outcome," a senior US State Department official told reporters on a conference call.
The White House said details of the agreement are consistent with what the United States had been urging, such as a de-escalation of the violence, constitutional change, a coalition government and early elections.
The State Department official warned, however, that the deal remains "very, very fragile," and said international support will be needed to help stabilize the country.
"This has been a very tough sell and will continue to be a tough sell for the opposition to make to those on the streets. This is not least because of the horrible, horrible violence of the last two days," the official said.
Mr Putin also emphasized the fragility of the situation and suggested "radical" opponents of the government were a potential threat to the deal.
He "underscored the need to take urgent measures to stabilise the atmosphere, accenting the importance of work with the radical opposition, which brought the confrontation in Ukraine to an extremely dangerous point," the Kremlin said in a brief statement.
Russia has said the West shares blame for the bloodshed because it encouraged violent opposition groups by failing to condemn their actions.
Deputy US national security adviser Tony Blinken said in a CNN interview that the Obama administration had made clear to Ukraine there would be consequences if the violence continued.
"And I think that had an important impact in getting people to move," Mr Blinken said. "We've already issued some visa restrictions on those who were responsible for the violence and repression.
TOP STORIES

RTÉ News – News Headlines