Thursday 30 January 2014 07.44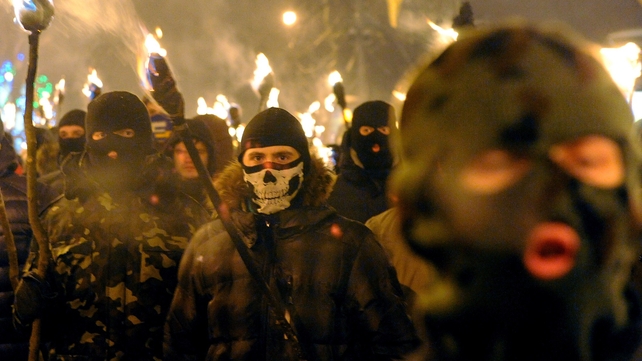 Some 600 nationalists carry torches in the western Ukraine city of Lviv
Ukraine's parliament has adopted a law granting amnesty to arrested anti-government protesters, but only if opposition demonstrators leave most of the government buildings they have occupied.
At a late parliament session, an amnesty bill that would free activists was passed with the ruling Regions Party but opposition MPs defiantly refused to vote.
President Viktor Yanukovych has granted several concessions to protesters who have packed the centre of Kiev for the last two months, but there was no end in sight to Ukraine's worst crisis since independence.
Earlier this week, the prime minister resigned and parliament scrapped tough anti-protest laws but the opposition wants nothing short of the president's departure.
Underlining the gravity of the crisis, Ukraine's first post-independence president Leonid Kravchuk yesterday warned that the country was "on the brink of civil war."
"It is a revolution. It is a dramatic situation in which we must act with the greatest responsibility," said Mr Kravchuk, who was president from 1991 to 1994.
Protesters, some from right-wing radical groups, remain camped out in much of the city centre of Kiev and have now erected wooden watchtowers at their barricades.
They are still occupying key municipal buildings including the Kiev city hall.
EU foreign policy chief Catherine Ashton said after meeting Mr Yanukovych that it was time for "real dialogue" to start and for "the violence and intimidation" to stop.
Three activists were shot dead in clashes between police and protesters in Kiev last week, but tensions have calmed somewhat since negotiations between the government and the opposition gained traction.
The crisis will influence the future strategic orientation of the nation of 46 million people sandwiched between Russia and the EU and whose economic potential remains unfulfilled.
Russian President Vladimir Putin, seen as the key international player in the crisis, told German Chancellor Angela Merkel that "any outside interference is unacceptable," the Kremlin said.
Ms Merkel for her part told Mr Putin to push for a "constructive dialogue" to defuse the crisis in Ukraine, her office said.
In a sign of Russia's economic influence over Ukraine, Mr Putin said Russia would wait until a new government is formed in Ukraine before it considers releasing a crucial $ 15bn bailout package for Kiev in full.
The opposition did not vote for the amnesty bill as they are unhappy that the law is conditional on protestors vacating buildings they are occupying in Kiev before it takes effect.
Svoboda (Freedom) party leader Oleg Tyagnybok said that parliament had essentially adopted a law about "hostages" as the dozens arrested during the crisis would now be held until buildings are freed.
"The authorities have now admitted they take hostages like terrorists do, so that they can then barter over them," he was quoted as saying by the Interfax-Ukraine news agency.
The UDAR (Punch) party leader and world boxing champion Vitali Klitschko warned: "Instead of lowering the temperature in society this is going to raise it."
Dozens of activists have been arrested since clashes broke out January 19, both in Kiev and in the provinces, where activists have stormed regional administration buildings.
Prime Minister Mykola Azarov and his entire government resigned on Tuesday after weeks of protests that began when Mr Yanukovych pulled out of a key EU deal in favour of closer ties with Moscow in November.
First Deputy Prime Minister Sergiy Arbuzov, who is also close to Mr Yanukovych and is seen as a member of the president's "family" inner circle, has taken over as premier in a caretaker role until a replacement is named.
There is little sign that Mr Yanukovych will give in to the opposition demand that he step down.
The president is "firmly intent" on holding onto power, and will likely use force or illegal steps to counter popular protests, the US intelligence chief James Clapper said.
TOP STORIES

RTÉ News – News Headlines