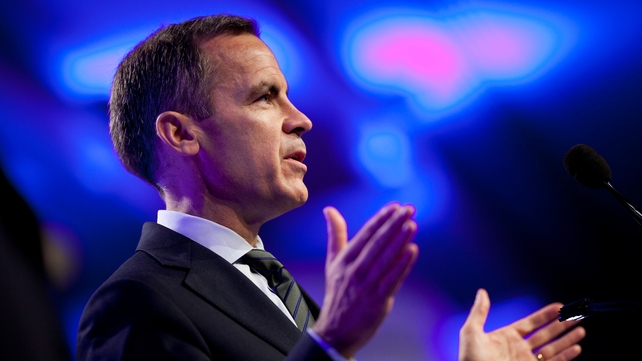 Bank of England Governor Mark Carney says timing of rate rises will depend on economic data
Britain's first increase in interest rates since the financial crisis is getting closer but the labour market is still in the process of recovering from the financial crisis, Bank of England Governor Mark Carney said. 
"With many of the conditions for the economy to normalise now met, the point at which interest rates also begin to normalise is getting closer," Carney said.
He made his comments in a speech to representatives of trade unions.
"We have no pre-set course, however; the timing will depend on the data," he said in the speech which largely reiterated Carney's previous comments on the outlook for monetary policy. 
Carney said the pace of wage growth in Britain had been very weak – it actually fell in year-on-year terms in the most recent reading. 
But this reflected how the country had seen a surge in people seeking work, and there were signs that wages could pick up modestly in the coming months, Carney added. 
The Bank of England would watch closely how pay settlements turn out at the turn of the year and "take a steer" from growth in starting salaries for people starting new jobs, he said. 
This would be consistent with most economists' expectations that the bank will not raise interest rates before February, despite the fact that two of its nine policymakers voted for a rate rise in August. 
The Bank of England put wage growth more explicitly at the centre of its thinking on when to raise interest rates last month. 
Carney reiterated the view of the BoE's policymakers that the amount of slack in the labour market was equivalent to around 1% of Britain's economic output. 
"In other words, there is still slack in the labour market that must be used up," Carney said, adding that recent upgrades to estimates of British economic growth to 2012 were unlikely to change that view materially. 
But the Bank of England chief also said the bank would not allow inflation risks to build. 
"The current inflation environment is benign. But it will not remain benign if we do not increase interest rates prudently as the expansion progresses," he said in the speech. 
He repeated the Bank of England's message that when the time comes for interest rates to go up, they will increase only gradually and probably to a level below the average before the financial crisis.

RTÉ News – Business Headlines