1 of 2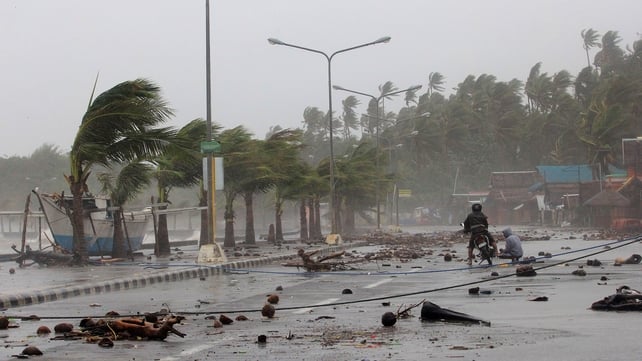 Typhoon Hagupit has torn down trees and power lines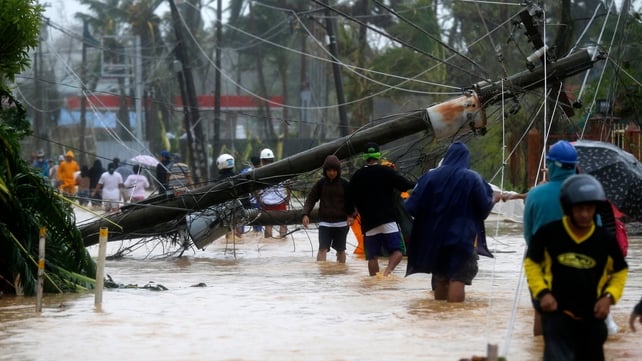 More than one million people have fled to shelters away from coastal areas
Typhoon Hagupit is sweeping across the eastern Philippines tearing down trees and power lines and threatening coastal areas with a powerful sea-surge.
The powerful typhoon has cut off communication in areas where thousands were killed by a massive storm just over a year ago.
More than one million people had fled to shelters away from coastal areas and landslide-prone villages by the time the typhoon made landfall last night.
The UN said it was one of the world's biggest peacetime evacuations.
Hagupit, which days earlier had reached category 5 "super typhoon" strength as it moved across the Pacific Ocean, weakened today to category 2 as it made a second landfall at Cataingan town in the south of Masbate island.
"We are now experiencing very strong winds and heavy rains," Wilton Co, mayor of Cataingan town, told a local radio station.
"I asked everyone to stay indoors and move inland to higher ground, hoping that we will have zero casualties."
The typhoon is moving west northwest at 15km/h, with sustained winds of 140km/h and gusts of up to 170km/h, the Philippine weather bureau PAGASA said.
It is expected to pass around 120km south of the capital Manila by early tomorrow morning.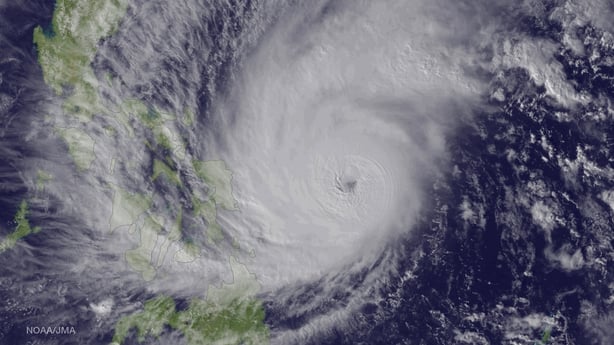 Power was cut across most of the eastern island of Samar and nearby Leyte province, including Tacloban City, which was devastated by Typhoon Haiyan last year.
Alexander Pama, head of the disaster agency, said major roads in parts of Samar and Leyte islands and the south of the main island Luzon were impassable due to debris, and some areas were also flooded.
General Gregorio Catapang, head of the military, said nearly 2,000 soldiers were clearing the roads and two airports on Samar to bring in food trucks and aircraft loaded with emergency supplies.
"There were areas that experienced storm surges," said Science and Technology Secretary Mario Montejo, adding the agency was verifying the exact height of the waves.
The weather bureau said Hagupit, which means "lash" in Filipino, was maintaining the projected path that would take it through Masbate, Romblon and Mindoro islands in the archipelago's central belt.
This is slightly north of areas devastated by Haiyan last year.
Residents of low-lying villages and landslide-prone areas had been evacuated to schools, civic centres, town halls, gyms and churches, the national disaster agency said.

RTÉ News – News Headlines