Sunday 23 February 2014 08.02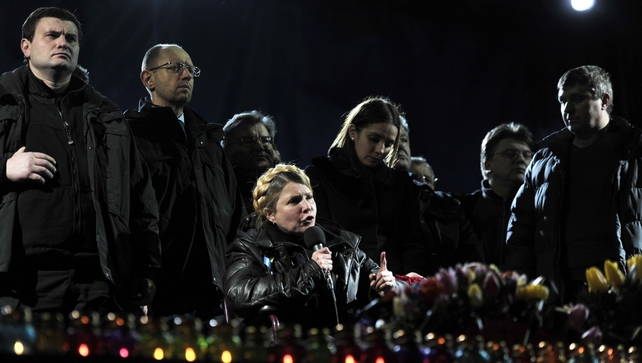 Newly freed Ukrainian opposition icon Yulia Tymoshenko delivers speech on Kiev's Independance square last night
The Ukrainian capital has remained calm overnight following a tumultuous day in which President Viktor Yanukovych was ousted from power.
Yesterdays events came after several days of bloodshed which claimed 82 lives.
Opposition parties have full control the capital and there is little sign of resistance from elsewhere in the country to the new political order.
The exact whereabouts Mr Yanukovych is currently unknown 
Local media reports say border police in the East prevented him from getting on a private jet to Moscow.
Barricades at Independence Square remain in place, and thousands of people remain on what is called the maidan listening to speeches, songs and religious ceremonies.
After her release from prison yesterday,  Mr Yanukovich's arch rival Yulia Tymoshenko hailed opposition demonstrators as "heroes" in an emotional speech in Kiev.
However, in a television interview conducted in the eastern city of Kharkiv, Mr Yanukovich said he would not resignor leave the country, and called decision by parliament to remove him "illegal".
"The events witnessed by our country and the whole world are an example of a coup d'etat," he said.
At Mr Yanukovich's abandoned secret estate a short distance from Kiev, people flocked to take photographs of his private zoo with ostriches and deer, replica ancient Greek ruins, and lavish waterways and follies.
EU Economic and Monetary Affairs Commissioner Olli Rehn said the EU was ready to offer "substantial financial assistance" once Ukraine had a new government.
"From a European point of view it is important that we provide a clear European perspective for the Ukrainian people who have shown their commitment to European values," Mr Rehn said after a meeting of the world's financial leaders in Sydney.
Russian Foreign Minister Sergei Lavrov said "illegal extremist groups were refusing to disarm and in fact are taking Kiev under their control with the connivance of opposition leaders".
 The White House said Washington was keen to see the country build a new government and hold early elections and welcomed Ms Tymoshenko's release.
TOP STORIES

RTÉ News – News Headlines