Tuesday 27 May 2014 13.20
1 of 2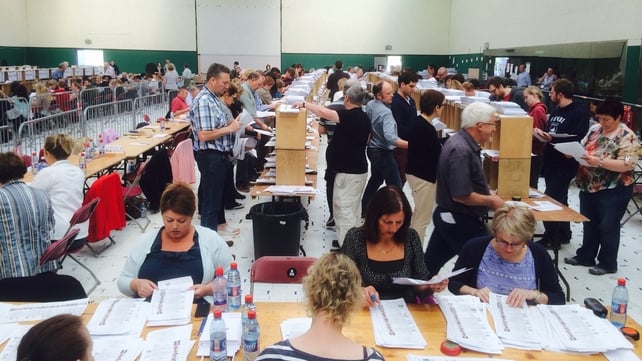 Counting resumed in the two European constituencies this morning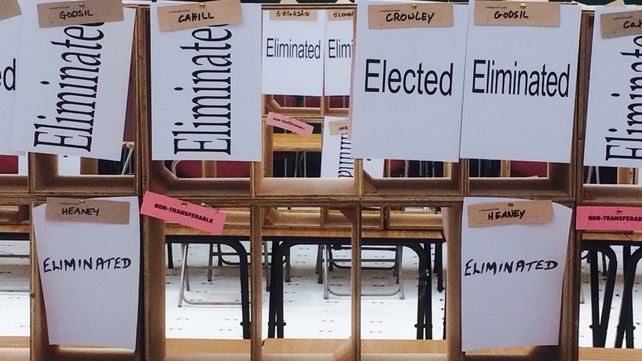 Liadh Ní Riada and Brian Crowley have been elected as MEPs in the South constituency
Counting resumed this morning to elect the five remaining MEPs in the Midlands-North-West and Ireland South constituencies where seats have not been filled.
Outgoing Fine Gael MEP Jim Higgins has lost his seat in the European Parliament.
He was eliminated after the fourth count in the Midlands-North-West constituency.
Sinn Féin's Matt Carthy is now fewer than 5,000 votes shy of the quota.
Fine Gael's Mairead McGuinness is 20,000 votes short of reaching the 129,290 figure.
Independent MEP Marian Harkin was the biggest beneficiary of transfers from Independent candidate Rónán Mullen.
She is now more than 24,000 votes ahead of her nearest rival, Fianna Fáil's Pat the Cope Gallagher.
Independent Luke 'Ming' Flanagan is the only MEP elected so far in the four-seat constituency.
Elsewhere, no one was elected on the eighth or night counts in the South constituency, where two of the four seats remain to be filled.
Grace O'Sullivan of the Green Party and Labour MEP Phil Prendergast have been excluded so far today.
Sinn Féin's Liadh Ní Riada and Fianna Fáil's Brian Crowley have been elected as MEPs.
Fine Gael's Seán Kelly remains on course to take the third seat.
While just more than 2,000 votes separate Fine Gael's Simon Harris and Deirdre Clune and Fianna Fáil's Kieran Hartley for the fourth and final seat.
Sinn Féin's Lynn Boylan, Fine Gael's Brian Hayes and Independent Nessa Childers were elected in the three-seat Dublin Euro constituency.
Meanwhile, six of the 949 council seats available remain to be filled in the local authority elections.
A recount will be held tomorrow in the Dún Laoghaire electoral area.
There will be a re-vote in the Ballybay-Clones electoral area of Monaghan on 7 June following the death of councillor Owen Bannigan.
The counting of votes in Northern Ireland's three-seat constituency is continuing at King's Hall on the outskirts of Belfast.
Sinn Féin's Martina Anderson topped the poll and was elected on the first count yesterday.
Following the elimination of Alliance Party candidate Anna Lo, four candidates remain in the hunt for the two remaining seats.
It is expected that outgoing MEPs Diane Dodds and Jim Nicholson will retain their seats, seeing off the challenge of Jim Allister of the TUV and Alex Attwood of the SDLP.
The count is expected to conclude in the late afternoon.
Full breakdown of Local Election results so far
Full breakdown of European Elections results so far
TOP STORIES

RTÉ News – News Headlines