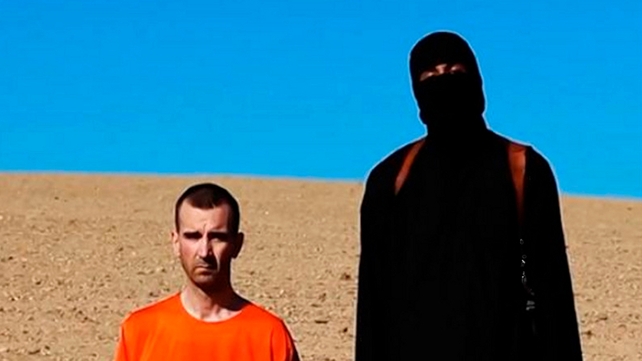 British aid worker David Haines is the third western hostage to be killed by Islamic State militants
A British aid worker has been killed by IS in Iraq. The video is viewed to be consistent with two videos which purported to show the beheading of British aid workers.
British aid worker David Haines is the third western hostage to be killed by Islamic State militants.
His death, apparently filmed in footage uploaded by IS online, follows those of US journalists James Foley and Steven Sotloff.
Their deaths prompted US president Barack Obama to announce a detailed plan to defeat IS in both Iraq and Syria.
The group has gained a foothold amid conflict and instability in the Middle Eastern countries.
Mr Sotloff was seized in Syria in August 2013 and had not been seen until he appeared in the video of Mr Foley's killing released by IS on 20 August.
There had been a failed attempt to rescue Mr Foley, who was seized in Syria in 2012.
As in both previous releases, the video was uploaded to social media several weeks apart and feature a masked man standing next to the victims in a desert.
The victims then address the camera before the militant speaks.
The masked killer in the latest video is thought to be the same jihadist with a London accent who carried out the on-screen murder of both US reporters.
The murder of Mr Foley sparked a scramble by British intelligence agencies to identify the killer, who has been dubbed "jihadi John".
The brother of British aid worker David Haines, who was beheaded by Islamic militants, has paid tribute to him after a video of his murder surfaced online.
Mike Haines, speaking in statement issued by the Foreign Office, said his brother had been murdered "in cold blood".
Earlier Prime Minister David Cameron described the beheading of the aid worker as "an act of pure evil" after Islamic State (IS) released a graphic video showing the 44-year-old being murdered by a militant with a knife.
Mr Haines was taken hostage in Syria while working for ACTED in March last year and his brother said he had a passion for humanitarian work.
"David was most alive and enthusiastic in his humanitarian roles," he said.
"His joy and anticipation for the work he went to do in Syria is for myself and family the most important element of this whole sad affair.
"He was and is loved by all his family and will be missed terribly."
The news came hours after the family of Mr Haines issued a plea to his captors to contact them.
The graphic video begins with a clip from David Cameron and then features a man appearing to be Mr Haines dressed in orange overalls and kneeling down in front of a man holding a knife.
The victim looks into the camera and says: "My name is Daivd Cawthorne Haines.
I would like to delcare that I hold you David Cameron entirely responsible for my execution.
"You entered voluntarily into a coalition with the United States against the Islamic State just as your predecessor Tony Blair did, following a trend against our British prime ministers who can't find the courage to say no to the Americans.
"Unfortunately it is we the British public that in the end will pay the price for our Parliament's selfish decisions."

RTÉ News – News Headlines