Wednesday 16 April 2014 07.32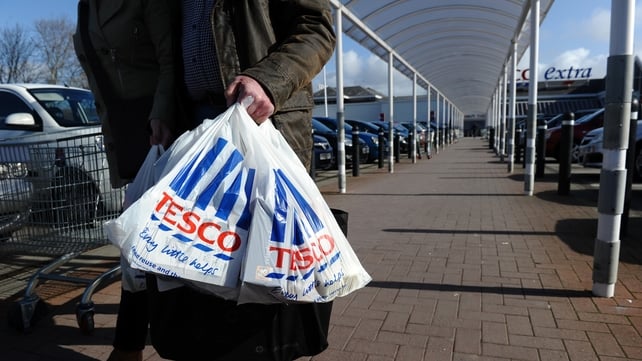 Sales at Tesco stores dropped particularly sharply in the past three months
Tesco has said it expected tough trading to continue as it posted a 6% fall in annual profit, its second straight year of decline.
The world's third-largest retailer said group trading profit for the year to 22 February was £3.3bn, in line with analysts' forecasts of £3.24bn but down on the £3.45bn posted in 2012-13.
Sales at stores open over a year, excluding fuel and VAT sales tax, fell 3% in its fourth quarter, the sharpest quarterly drop recorded during Chief Executive Phil Clarke's three year tenure.
The decline increases the heat on Mr Clarke, two years into a turnaround plan which – despite billions spent – has failed to stop its core market share slipping, under pressure from hard discounters Aldi and Lidl.
In Ireland, Tesco said like-for-like sales were 5.5% lower than last year.
The second half of the year was particularly bad for its business here, with sales falling 8.1% and 6.4% in quarters three and four respectively.
Tesco said this trend reflected the fact that Irish consumers "remain under pressure", also cited "intense vouchering activity" in the market here.
However it said its Prime Promise – which aims to match the likes of Aldi and Lidl on the price of some products – had helped to improve its reputation amongst shoppers, claiming that customer perceptions were at a four-year high.
On Monday Kantar Worldpanel data suggested that Tesco's lead in the Irish grocery market had narrowed substantially, with shops like Aldi and Lidl being the main beneficiaries of its drop in sales.
TOP STORIES

RTÉ News – Business Headlines