Friday 31 January 2014 18.40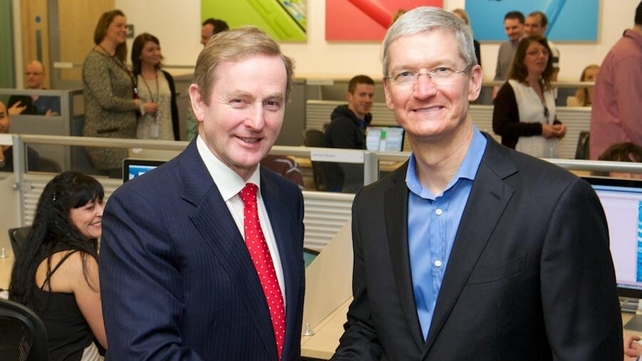 Tim Cook was in Apple's Co Cork facility for the opening of a new extension
Taoiseach Enda Kenny has confirmed he spoke today with Apple CEO Tim Cook about Ireland's position on corporation tax.
Both were at Apple HQ in Cork for the opening of a new extension to the building. They spoke during a private meeting.
The Taoiseach said he reassured Mr Cook that Ireland had a transparent tax system and that the rate of 12.5% would continue. 
He also pointed out the changes in the last Budget on statelessness and companies and that Ireland is taking part in an OECD discussion on an international response to clarify the tax position.
Asked what Mr Cook's response was, the Taoiseach said he was very happy with the Cork operation, which now employs 3,800 people.
Speaking to reporters Mr Kenny said Ireland did not do deals with specific companies.
TOP STORIES

RTÉ News – Business Headlines