Wednesday 05 March 2014 21.49
1 of 7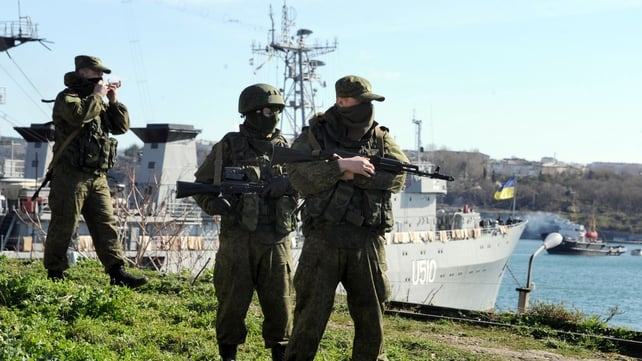 Russian forces patrol near the Ukrainian navy ship Slavutich in Sevastopol harbour
US Secretary of State John Kerry, Russian Foreign Affairs Minister Sergei Lavrov, French Foreign Affairs Minister Laurent Fabius, and German Foreign Minister Frank-Walkter Steinmeier hold discussions at the Elysee presidential palace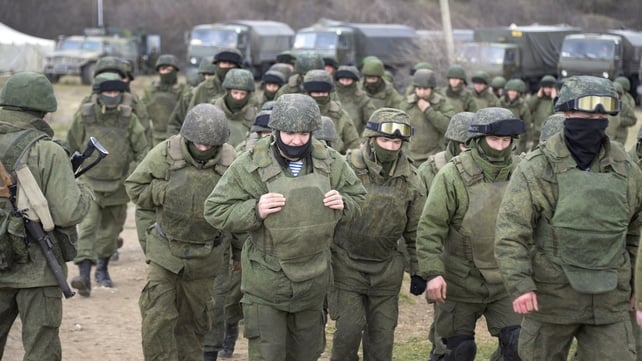 Russian forces have blocked access to the Ukrainian naval base at Perevalnoe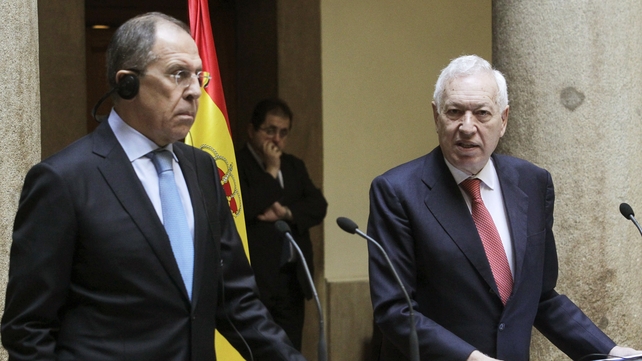 Sergei Lavrov said Russia has no authority over pro-Russian forces in Crimea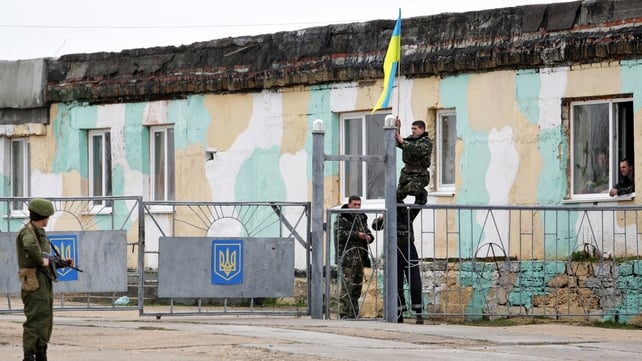 Ukrainian troops unfurl a Ukrainian flag near the entrance of the Ukrainian military air base outside Sevastopol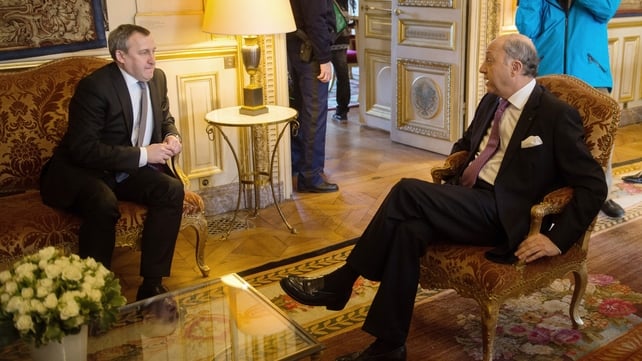 Andriy Deshchytsia and Laurent Fabius met for talks in Paris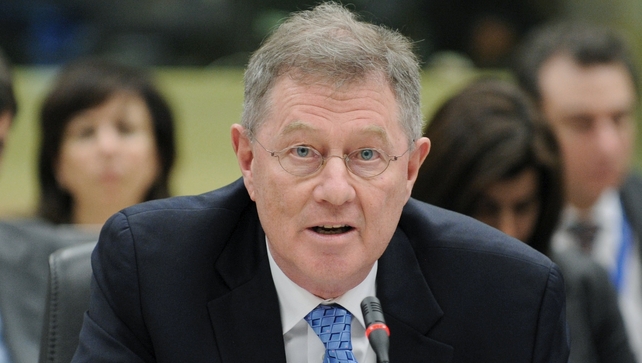 Robert Serry was seized in Crimea's main city of Simferopol in southern Ukraine
US Secretary of State John Kerry has said there are "a number of ideas on the table" to resolve Ukraine tensions, and he will consult with President Barack Obama on them.              
Mr Kerry said the US is ready to work with all parties to de-escalate tensions in the crisis and he renewed his call for Russia to send troops back to barracks.
He said he expects to meet with Russian Foreign Minister Sergei Lavrov in Rome tomorrow.
Earlier the UN Secretary General's special representative was threatened by armed men in Crimea, but the UN denied reports he had been kidnapped.
The Ukrainian Foreign Ministry said Robert Serry was seized in Crimea's main city of Simferopol in southern Ukraine.
However, Deputy UN Secretary General Jan Eliasson said that Mr Serry was threatened.
ITV's Europe Editor James Mates then tweeted that he was in a coffee shop with Mr Serry and that local militia had blocked the door.
Mr Mates reported that Mr Serry had agreed to end his mission in Crimea and travel to the airport.
He said people were outside the coffee shop chanting "Russia, Russia" and "Putin, Putin".
Mr Mates said they needed the help of police to force their way through the crowd and into a waiting car.
The development comes as Ukrainian troops remain blocked inside their barracks in Crimea in the gravest stand-off between the West and Russia since the end of the Cold War.
Mr Kerry and Russian Foreign Minister Sergei Lavrov held direct talks on Ukraine on the sidelines of an international meeting in Paris.
They held discussions along with their German and French counterparts over coffee at the French presidential palace.
A Western diplomatic source said the talks centred on the crisis in Ukraine and lasted several minutes.
It was the first time Mr Kerry and Mr Lavrov had met since a pro-Russia government in Ukraine was ousted, prompting the de facto takeover of the Crimean peninsula by pro-Russian forces.
Earlier, Mr Lavrov said the West set a bad example by supporting Ukrainians who protested against ousted president Viktor Yanukovych.
Mr Lavrov said Russia has no authority over the forces that have taken control of Crimea.
US more than doubling jets in NATO air policing mission
The US is more than doubling the number of fighter jets it is sending to a NATO air policing mission in the Baltics and is sending one aerial refuelling aircraft, a US official has said.
Defense Secretary Chuck Hagel announced plans earlier today to bolster the decade-old NATO mission, which patrols skies over Baltic allies Estonia, Latvia and Lithuania.
A US official, speaking on condition of anonymity, said the Pentagon will send six additional F-15 jets and one KC-135 refueling aircraft to augment the mission this week. The US already provides four F-15 jets to the mission, which helps identify and respond to violations of Baltic airspace.
Meanwhile, French Foreign Minister Laurent Fabius said European Union leaders meeting in Brussels tomorrow could decide on sanctions against Russia if there is no "de-escalation" by then.
European Commission President José Manuel Barroso has said the commission is offering €11bn to Ukraine over the next few years.
Ukraine's foreign minister said he wanted to press for a peaceful solution to the conflict with Russia.
Meanwhile, Russian forces have seized two Ukrainian missile defence battalions in Crimea, Interfax news agency quoted a military source as saying.
The source said: "We now expect the arrival of Russian missile specialists and pro-Russian activists who will have to persuade the Ukrainian military personnel to carry out joint combat duties."
Ukrainian police have evacuated the regional government building in Donetsk, which has been occupied by pro-Russian protesters.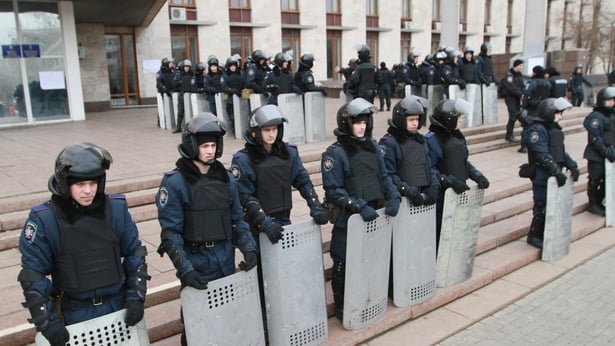 Ukraine raised its flag over the building in the eastern city, where a Russian flag has flown since Saturday.
Local police said the evacuation began after reports that the building was booby-trapped with bombs.
Ukrainian Prime Minister Arseny Yatsenyuk said Russia's deployment of forces in Crimea is having an "extremely negative" impact on the country's economy.
He also said at the start of a government meeting that the situation in Ukraine remained difficult, with Russian forces in control of the Black Sea peninsula.
"The Russian aggression on Ukraine's territory is having political and economic consequences," Mr Yatsenyuk said in remarks shown on television.
"The presence of the Russian military on Ukraine's territory is having an extremely negative effect on Ukraine' economy."
He gave no details but the new government is holding talks with the International Monetary Fund on financial assistance to avert bankruptcy.
TOP STORIES

RTÉ News – News Headlines