Updated: Friday, 20 Dec 2013 13:42 | Comments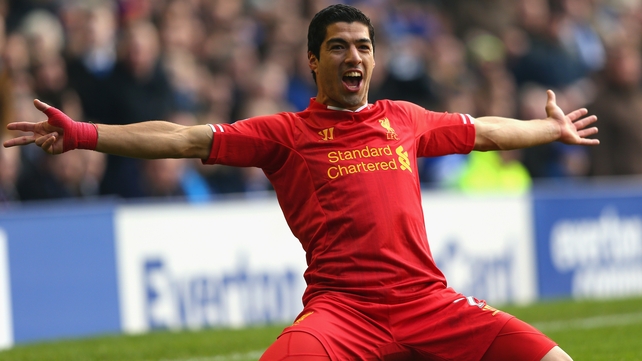 Luis Suarez – 17 goals in 11 Premier League starts
Luis Suarez has signed a new long-term contract with Liverpool, the club have confirmed.
The Uruguayan has been in stunning form for the Reds recently, after a turbulent summer in which he suggested the club had reneged on an agreement to sell him if they failed to qualify for the Champions League.
It had been expected that talks would continue throughout the season and the received wisdom was that the player would want to wait and see whether the Reds secured a Champions League place for next season, but the club today confirmed he had signed a new deal.
The 26-year-old told the club's official website, liverpoolfc.tv: "I am delighted to have agreed a new deal with Liverpool and have my future secured for the long term.
"We have some great players and the team is growing and improving all the time. I believe I can achieve the ambitions of winning trophies and playing at the very highest level with Liverpool. My aim is to help get us there as quickly as possible.
"Without doubt the backing I have received from the Liverpool fans has influenced my decision. I am so proud to represent them and go out to do my best for them every time I pull on the shirt.
"We have a special relationship; they have love for me and in return I love them back. I will always do my best for them and hopefully we can achieve success together."
Manager Brendan Rodgers hailed the move as a massive lift for the club, saying: "This is fantastic news for everyone associated with the club; the team, the owners and most importantly the supporters.
"Luis is a world-class talent and securing his services is crucial for what we are trying to achieve here.
"What's most important and most exciting is that, at just 26 years old, his best years are still ahead of him and we now know we'll be seeing him reach that potential in a Liverpool shirt."
User contributions and/or comments do not, unless specifically stated, represent the views of RTÉ.ie or RT&Eacute.
Click here for Terms of use

RTÉ Sport sport headlines