Monday 17 March 2014 07.52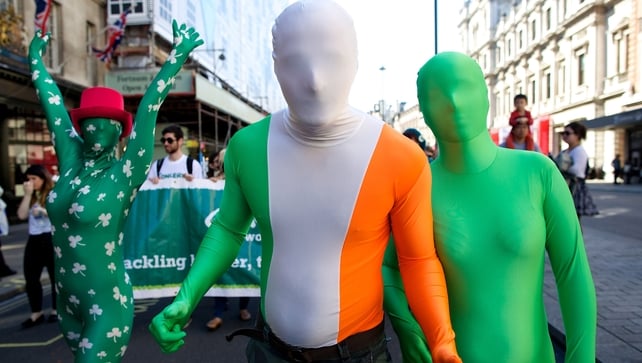 Revellers at a St Patrick's Day parade in London which took place in Central London yesterday
St Patrick's Day is being celebrated with parades around the world and across the country.
Ireland's largest parade will be in Dublin, where the theme is "Let's Make History".
Limerick's St Patrick's Day parade starts at noon at Punches Cross, while Cork's parade gets underway an hour later and will celebrate the theme of "Legends".
More than 70,000 people are expected to attend Galway's parade – where the theme is "The Sea", while Waterford's parade gets under way at 1pm on The Quay and The Mall.
Dublin's St Patrick's Day Parade will be on RTÉ One, RTÉ News Now and the RTÉ Player worldwide from 12.20pm.
As well as celebrations at home, St Patrick's Day is being marked in various ways around the world.
Over 100 international landmarks will be "going green" to mark the occasion.
The Great Wall of China, the Leaning Tower of Pisa and South Africa's Table Mountain are all being illuminated today.
At home, the GPO, Four Courts, Convention Centre and Government buildings have all taken on a green glow.
Members of the Defence Forces will also celebrate St Patrick's Day in 17 countries around the world.
Over 400 Irish soldiers are currently deployed on peace and support missions overseas including in Somalia, Syria and Lebanon.
TOP STORIES

RTÉ News – News Headlines