Saturday 24 May 2014 16.53
1 of 2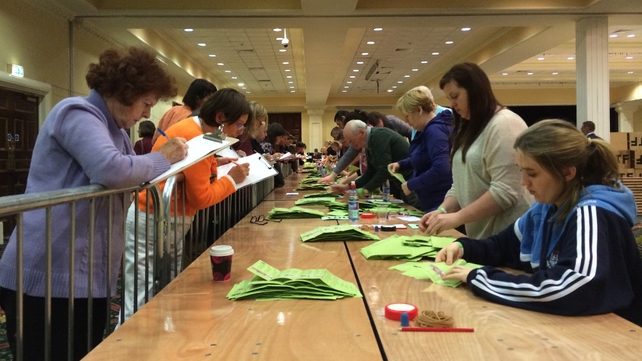 Votes being counted in Dublin West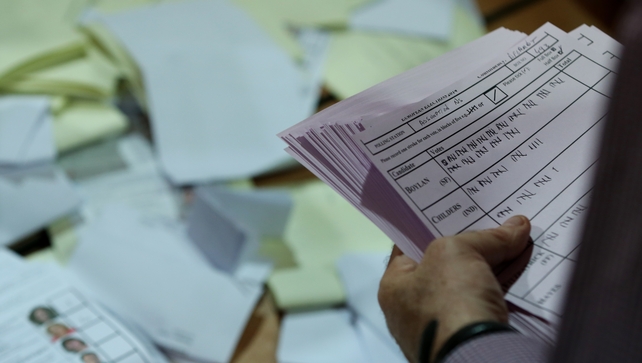 Counting got under way this morning in the local and by-elections; European election count begins tomorrow
Sinn Féin's Paul Donnelly has topped the poll in the Dublin West Dáil by-election.
He is closely followed by the Socialist Party's Ruth Coppinger, who is eight votes behind Mr Donnelly in Dublin West after the second count.
This is one more good result for Sinn Féin on a very good day for the party.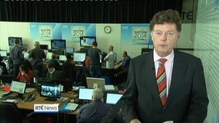 They are now in the fray to win a Dáil seat on the day the party's number of councillors is set to increase substantially.
Transfers will decide this contest later. Mr Donnelly got 6,066 first preferences. 
However, there was more bad news for the Labour Party.
It came seventh after the first count trailing the Green Party by around 300 votes.
Labour Party Deputy Leader Joan Burton has said today was a difficult day for the party but maintained she has confidence in the party leader Eamon Gilmore.
The first council seat of 949 has also been filled.
Independent Michael Kilcoyne was elected to Mayo County Council in Castlebar Local Electoral area (LEA) on the first count with 2,921 first preferences.
The quota was 1,711.
Andrew McGuinness, outgoing Fianna Fáil councillor and son of TD John, is expected to top the poll in the Kilkenny City East.
It has not been all bad news for the Labour Party, as Noel McCarthy has bucked the national trend and topped the tallies in the Fermoy electoral area with 20.8% of the vote.
Ireland's oldest Mayor Ian McGarvey looks set to retain his seat on on Donegal County Council.
According to first count tally figures, Mr McGarvey is the seventh of 22 candidates in the ten-seat Letterkenny.  
In Sligo, it appears that former Fianna Fáil TD Eamon Scanlon did not poll as well as expected with tallies showing him getting just 7% of the vote. 
FG, SF will battle to lead next government – Varadkar
Minister for Transport Leo Varadkar has said what could potentially emerge from these elections is a battle between Fine Gael and Sinn Féin to lead the next Government.
He said as a result there has to be more focus on the alternative Sinn Féin presented.
Mr Varadkar said the people have sent the Government a message today.
He said it was clear that the electorate was not happy.
"They're hurting from many of the measures that have been introduced in recent years and they want us to do a better job," he said.
The minister said there was a strong element of a protest vote.
He said Sinn Féin and Independents were doing very well but the electorate had clearly not settled on an alternative government.
He added they were still giving the present Government a chance and they wanted it to "continue doing the things we have been doing to restore stability to the country".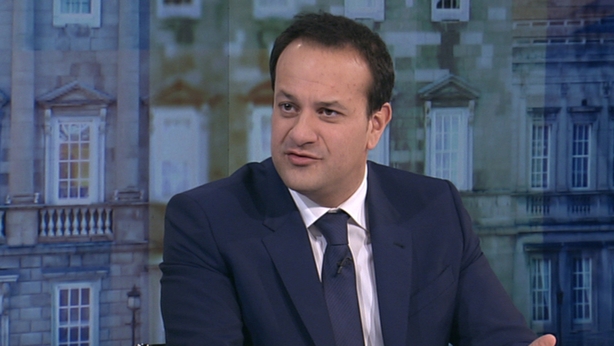 The minister said he accepted that these results were not just a blip and there was going to be a battle for the next year or so between Sinn Féin and Fine Gael to lead the next government.
Government suffering from 'protest vote' – Fitzgerald
Meanwhile, Minister for Justice and Equality Frances Fitzgerald has said she always expected these elections to be difficult for Fine Gael. 
Speaking to RTÉ News at the Citywest count centre, she said the Government parties were suffering from a protest vote, which was "predictable" given that the Government was pursuing policies that have never been tested.
"Quite clearly governments, generally speaking, do not do well in mid-term elections. There's a very big scope for a protest vote … We're seeing that", she said.
"I recognise that this was always going to be a difficult election for Fine Gael and Labour", she added.
Labour Party has 'taken a shellacking' – Burton
Minister for Social Protection Joan Burton has admitted that "today is a difficult day for the Labour Party" but maintained she has confidence in party leader Eamon Gilmore.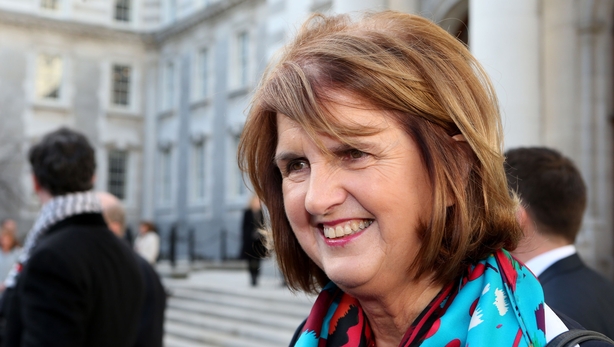 Asked a number of times by reporters at Citywest if the leadership of the party was now an issue, she said: "I think the issues are far wider than one person … Eamon Gilmore is the elected leader of the Labour Party  and of course I have confidence in him but it's much wider than that." 
She denied not giving Mr Gilmore a "ringing endorsement", and said it was "a very direct endorsement" but that "we're still in the middle of the count" and that, "in the words of Barack Obama", the Labour Party had "taken a shellacking". 
'John the Baptist' would not have done better – Rabbitte
Pat Rabbitte has said he does not think if John the Baptist had led the Labour Party into this election it would have produced any better a result.
The Minister for Communications, Energy and Natural Resources said Mr Gilmore should continue as leader of the Labour party.
He said he did not know if there will be a leadership challenge and he was not aware of any moves against Mr Gilmore.
Mr Rabbitte said Mr Gilmore had in the past led the Labour Party to its best ever result.
He said it is very difficult to see Labour winning a European seat in this election. Labour has taken the brunt of the anger against the Government, he said.
Speaking on RTÉ's special election programme, he asked where would the country be now if it had voted for a mixture of Independents and Sinn Féin in 2011?
He said that while canvassing he found "there is a certain comfort now the country has drawn back from the precipice" and people want to show they have had enough of the tough measures the Government has had to implement.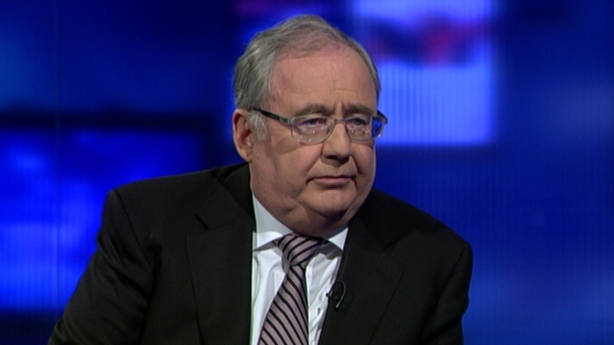 Reacting to the Behaviour and Attitudes exit poll for RTÉ he said everyone knows the Government has had a couple of bad months and after six years people have run out of patience.
They are sending a message to the Government midway through its term, he said.
But, he added, it does not mean the next General Election will deliver a Government of Sinn Féin and Independents
Referring to recent controversies, Mr Rabbitte said if the people do not like a united Government taking tough decisions they like less a Government that is not communicating a united sense of purpose.
Cabinet reshuffle 'opportunity for renewal'
On the expected Cabinet reshuffle he said that there is an opportunity for renewal. On his own future in Cabinet he said he had no say "good, bad or indifferent" on that.
He said the Programme for Government has been largely achieved but it needs to be renewed as the questions the Government has to answer have changed from ones of survival to ones about housing and medical cards.
He said he does not expect a party conference on a new Programme for Government as other governments have refurbished programmes for government without party conferences.
"The Programme for Government has largely been accomplished because it's a product of the crises we faced in the winter of 2010 and 2011.
"Therefore it was focused on economic sovereignty, bidding farewell to the Troika and trying to initiate economic recovery.
"That's behind us. The questions have changed … People feel a confidence now that they didn't feel in 2011", he said.
'We accept the verdicts of the people" – O'Dowd
Speaking at the count centre in Co Louth, Fine Gael's Fergus O'Dowd said that his party's vote is holding up very well. It is a mid-term election and in every mid-term election in the world the Government suffer some losses.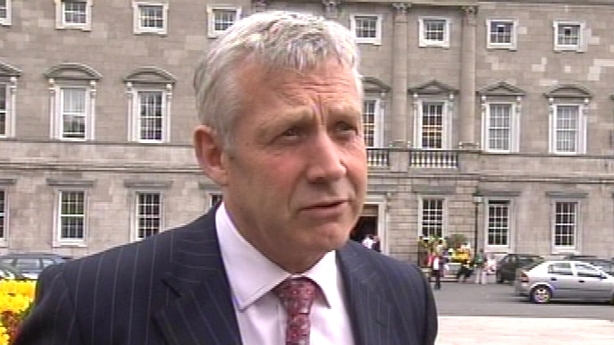 He acknowledged the clear increase in votes for Independents and Sinn Féin but said Fine Gael is hopefully holding its core vote in Co Louth.
The Minister of State said it was a very difficult campaign and all candidates are performing very well in the circumstances.
He added that the lift in the economy is not felt by everybody and we know that.
"We accept the verdicts of the people", he said.
Sinn Féin vote is a vote to change – McDonald
Elsewhere, Sinn Féin's Mary Lou McDonald has said her party will work to challenge spending policies following its increased vote in all three elections.
Ms McDonald said that the vote for Sinn Féin is a vote to change.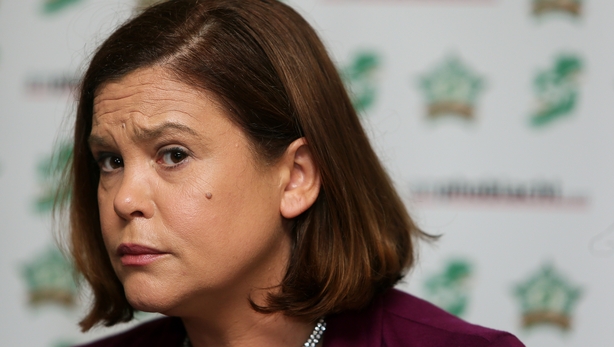 The Sinn Féin Deputy Leader added it would be a big mistake for the Government parties to think that they can take their wallop today and that is the end of it
She said she thinks something much more profound has happened.
Fianna Fáil's Éamon Ó Cuív said the vote for Luke Ming Flanagan was a clear signal that people in the west of Ireland were fed up to the back teeth of "over-regulation from Europe".
He expressed disappointment about the early indicators for the Fianna Fáil vote, but said he was confident that the Fianna Fáil vote would hold up well in the end.
He said the surge in support for Sinn Féin and Independents did not take away from Fianna Fáil as the main party of Opposition.
He also said Micheál Martin would remain as party leader, that leadership is "collective" and Fianna Fáil needs to focus more on policies to serve the requirements of the people.
Follow our LIVE Elections Blog for the latest updates from the constituencies
TOP STORIES

RTÉ News – News Headlines