Updated: Monday, 17 Mar 2014 20:50 | Comments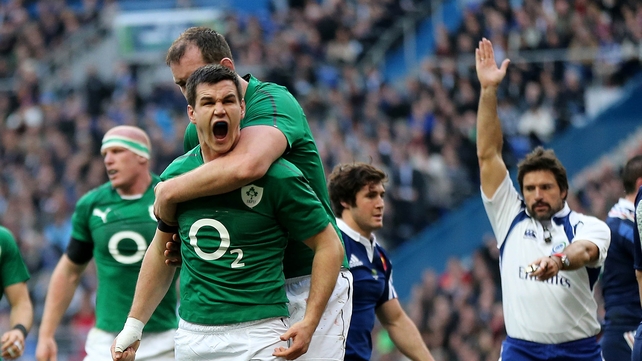 Jonathan Sexton has committed his future to Racing Metro
Jonathan Sexton has quashed speculation linking him with an early return to Ireland from his club side Racing Métro.
Reports in France and Ireland claimed Sexton had been considering a move back to Leinster in the summer after reportedly failing to settle in Paris.
Speaking on RTÉ's Game On this evening as he reflected on Ireland's RBS Six Nations title win at the weekend, the 28-year-old pledged his future to the French side and said he is adjusting more and more to life with Racing. 
He said: "I was obviously aware of some of the things being mentioned, almost because other people have to comment on it rather than myself.
"There was speculation about leaving France a year early. That is not going to happen.
"In the press conference last week, I have always given two sides of the story and only one seemed to be picked up. I said sometimes I absolutely love this place and other times, it was tough at the start and there has been difficult moments.
"But all-in-all, that was always going to be the case in your first six months here.
"My wife and I have settled down really well here, we have a baby on the way in July and it'll be born in Paris please God.
"They are unnecessary distractions and something I haven't got too hung up over to be honest. I'm starting to really enjoy it over here and we're taking steps in the right direction."
Sexton scored two tries for Ireland in the 22-20 win over France, playing a telling part in the victory before injury ended his game after a collision with Mathieu Bastareaud. 
Describing the success as his best day in the green jersey, Sexton revealed he feels Ireland can take a further step in the 2015 competition and repeat the Grand Slam success of five years ago.
"It is hard to compare different days, whether it is when I was with Leinster in big finals or with the Lions," Sexton said. 
"It's always the next one that is the most important one – that is just something you learn as you go along.
"It's not a weight not off the shoulders – it is just a great thing to finally achieve something in a green jersey and you saw how much it meant to the country with the reception we got coming home. They are the moments you do it all for.
"I was pretty envious of the guys that did the Grand Slam in '09 – I still am – so I hope we can go one step further next year.
"With some of the players that we have to come back in – they can only bring us to an even higher level."
"There was speculation about leaving France a year early, that is not going to happen." – Jonathan Sexton
It is unclear if Sexton will be able to return for Saturday's clash with Grenoble in the Super 14 as he recovers from concussion.
The injury curtailed some of the celebrations in Paris for the out-half but he was able to savour the Dublin homecoming for the players. 
"I'm a lot better now," he confirmed.
"I didn't really get a chance to enjoy it with the lads on Saturday night in Paris. I spent a bit of time with the doctor.
"I didn't feel as bad as I thought as I was going to and I got to enjoy it a bit yesterday (Sunday) with the guys and had a bit of a celebration with my family and close friends and it was quite enjoyable.
"I remember everything right up the hit and I just remember being in the doctor's room then. I remember speaking to the doctor on the pitch and being back in so I didn't have much memory loss.
"It wasn't really a bad one, it just came at a bad time against a pretty big fellow. It probably looked worse than it was, it probably gave my family a bit of a scare and my wife in the crowd. It was less pleasant for them."
Jonathan Sexton was speaking on RTÉ 2FM's Game On with Damien O'Meara on Monday evening.
User contributions and/or comments do not, unless specifically stated, represent the views of RTÉ.ie or RT&Eacute.
Click here for Terms of use

RTÉ Sport sport headlines