1

of 6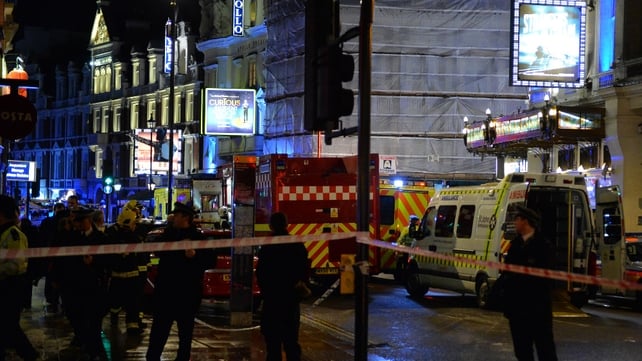 London Fire Brigade and London Ambulance Service attended the scene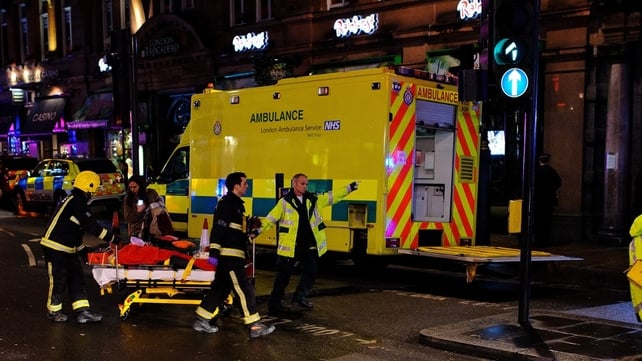 Seven people were reported seriously hurt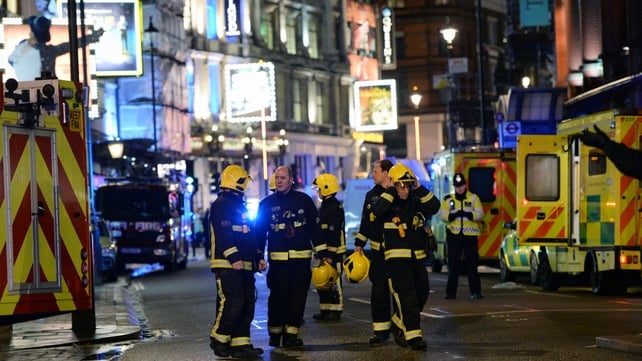 Emergency service were on the scene shortly after 8.15pm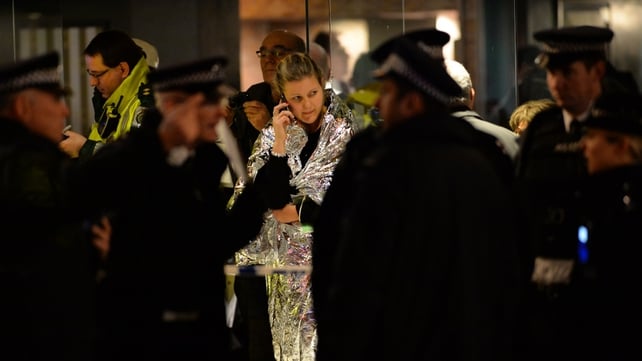 Eyewitnesses spoke of 'chaos and panic'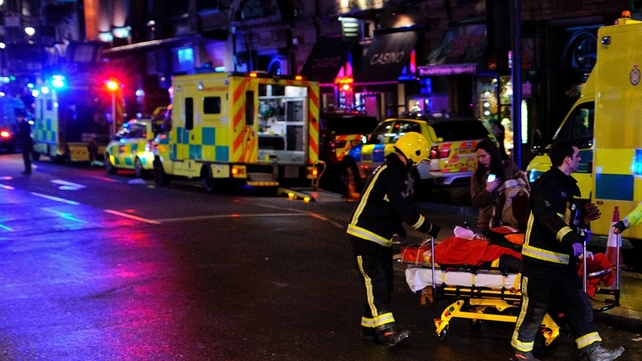 Theatre was almost full with around 700 inside watching the performance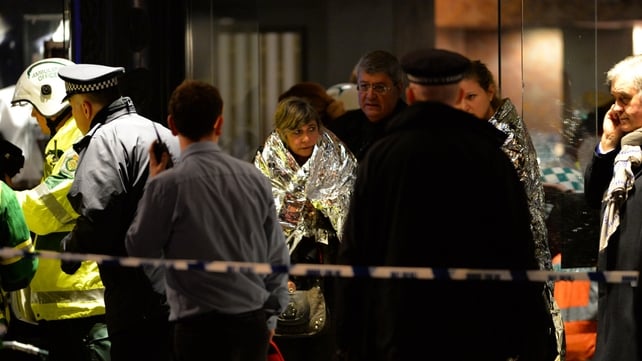 Dozens of people were treated outside the theatre
Seven people were seriously injured after the ceiling of the Apollo theatre in central London collapsed during a performance.
Eyewitnesses described the "chaos and panic" as the theatre "began to crumble down" around them.
Masonry from the Grade II-listed theatre on Shaftesbury Avenue in the West End plummeted into the stalls below, striking members of the audience and filling the theatre with clouds of thick dust.
Police confirmed they were called to the theatre shortly after 8.15pm.
At least 81 people were described as walking wounded following the collapse, which occurred during a performance of The Curious Incident Of The Dog In The Night-time.
Kingsland station manager Nick Harding, from London Fire Service, said: "A section of the theatre's ceiling collapsed on to the audience who were watching the show.
"The ceiling took parts of the balconies down with it."
Eyewitnesses spoke of hearing a loud "creaking" which some initially thought was part of the show.
Police said a London bus was used to take the casualties to hospital, while members of the public were asked to avoid the area.
London Fire Brigade said all those were trapped in the theatre have been freed.
One theatre-goer described the moment of balcony collapsed.
Andrew Howard-Smith, 68, said: "I saw the edge of the balcony come down, that's what I saw. We were on the balcony below.
"In the production you had to hold on to the rail and lean over to see what was going on, and we were doing the same.
"Everybody must have got hold of the brass rail and just pushed it over, and then the edge came off."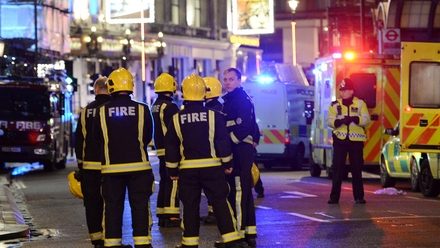 Rupert Street and Shaftesbury Avenue were filled with evacuated theatre-goers covered in dust, many of whom were bleeding.
Police were on the scene within minutes and began cordoning off the theatre.
London Fire Brigade said the theatre was almost full, with "around 700 people" watching the performance.
One theatre-goer said he saw the edge of the balcony come down, while another said there was a bang and then a huge cloud of dust.
A district surveyor from Westminster City Council is at the scene to carry out structural assessment of the building.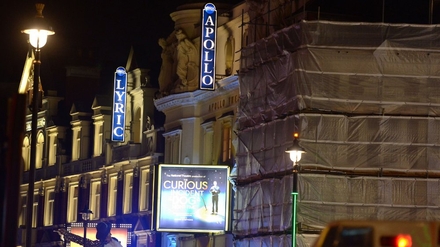 It is thought the engineer, who will be accompanied by police officers, will spend most of the night getting access inside the theatre to ensure it is safe.
Council leader Philippa Roe said: "We are obviously shocked to hear the news and our immediate concerns are with the people that have been injured.
"Our officers are on site and they will help emergency services wherever they can."
A spokesman for Nimax Theatres, which owns the Apollo, described the ceiling collapse as a "shocking and upsetting incident" adding that their "thoughts are with the audience and staff" caught up in the incident and that an investigation into the cause was under way.

RTÉ News – News Headlines