Monday 10 February 2014 12.09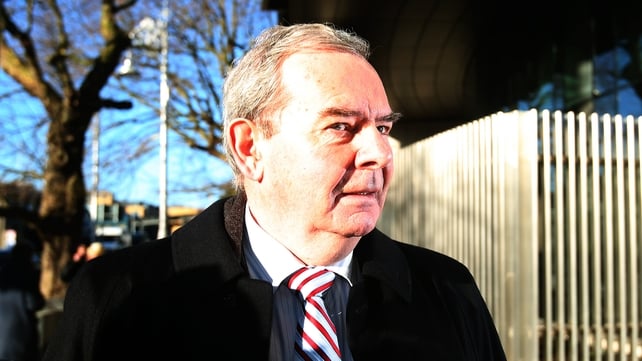 Seán Quinn is testifying today
Businessman Seán Quinn has told the Anglo Irish Bank trial he believed he was investing in a blue chip investment in Anglo Irish Bank, which was regulated by the government.
The former chairman of Anglo Irish Bank and two former Anglo executives are charged with providing unlawful financial assistance to 16 people to buy shares in the bank.
Seán FitzPatrick, 65, from Greystones in Co Wicklow, 51-year-old Patrick Whelan of Malahide in Dublin and 63-year-old William McAteer of Rathgar in Dublin have pleaded not guilty to the charges.
Mr Whelan has also denied seven charges of being privy to the fraudulent alteration of a loan facility letter.
Mr Quinn is giving evidence on the fourth day of the trial at the Dublin Circuit Criminal Court.
He said he decided to invest in the bank, but did not decide how it was to be done – through high-risk Contracts for Difference.
Mr Quinn denied deliberately building up a stake in secret, but accepted it was under the radar.
He said loans given by Anglo to fund margin calls on the contracts – money owed to brokers when a share price drops – were not so much loans as Anglo doing something for its own benefit.
Mr Quinn told the court he had sought assurances from the Financial Regulator and from Anglo about the bank's position because he was concerned about the share price dropping.
He said his CFD position was mentioned at a meeting with the regulator, who was "very cautious" about revealing his knowledge about Anglo and was "on a fishing exercise" at the meetings.
The decision to unwind his stake using loans from Anglo to the Quinn family to buy up the shares was not his, he said.
The bank was in control and told him in no uncertain terms.
He said he later took legal advice because he was concerned about "some sort of sweetheart deal" having taken place. 
When asked about once being the richest man in Ireland, the 12th richest in Ireland and the UK, and among the 200 richest in the world, he said "how times can change".
TOP STORIES

RTÉ News – News Headlines