Updated: Wednesday, 19 Mar 2014 07:54 | Comments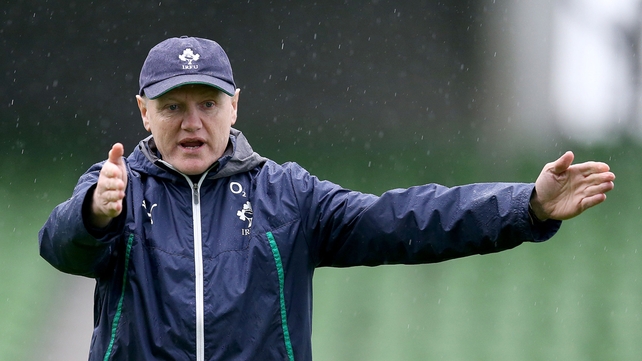 Joe Schmidt believes there is little opportunity for squad rotation during the Six Nations
Video
Ireland only have five realistic chances to blood new players ahead of the Rugby World Cup 2015 run-in, according to boss Joe Schmidt.
The RBS Six Nations champions have 10 Test matches before the traditional summer World Cup warm-ups, and the tournament proper starting in September 2015.
Head coach Schmidt believes the relentless Six Nations schedule offers no opportunity for squad rotation.
The former Leinster coach remains unfazed by the challenge to anoint Brian O'Driscoll's successor for Ireland's 13 shirt in that time-frame, with the talisman centre retiring at the end of the season.
"There are 10 Tests to go ultimately towards the World Cup, five of those are the finals we play week to week in the Six Nations," said Schmidt.
"For us personally the Six Nations is massive, because it happens every year and that's the one tournament you've got to be repeatedly good at.
"The World Cup is once every four years.
"It's got to be kept in mind because it's the peak, but those five Six Nations Tests, it's probably the amount of pressure for those, it's hard to go outside of the players who are in form and to keep continuity because it's played over seven weeks.
"So you don't even get chance to catch breath.
"I thought that we would have been able to give a little more opportunity without losing continuity during the Six Nations.
"If we hadn't played people against Italy they would have had two full weeks off, and that wouldn't have been the best preparation for the deciding game against France."
Rejecting outside accusations of Leinster bias, Schmidt said he never even considers provincial background when selecting Ireland squads.
Buoyed by the return to fitness of Stephen Ferris, Tommy Bowe and Donnacha Ryan, Schmidt said he would not rule out taking Johnny Sexton on the summer's Argentina tour.
Robbie Henshaw, Darren Cave and even Jared Payne, who qualifies through residency in November, can fight to succeed O'Driscoll next term, said Schmidt.
The Kiwi coach said there is still time for fast-developing provincial stars like JJ Hanrahan at Munster to force their way into the picture ahead of Rugby World Cup 2015 to boot.
"We are very open-minded, and we want there to be real competition for places" – Joe Schmidt 
"I don't think the circle is as tight as people probably perceive it to be," said Schmidt.
"We would have discussed 55 to 60 names, now you can't select that many but they are certainly part of discussions.
"We are very open-minded, and we want there to be real competition for places, and we want to be able to keep an open mind in so far as the form of some of those younger players.
"I don't think the Argentina tour is the only time to try things, we will have the Guinness Series that follows it too.
"They are the five Test matches that really give us an opportunity to get together a squad to try to defend the Six Nations now we're in that position."
Former players and outside commentators have questioned whether Schmidt's Ireland selections have weighed too heavily on his former club Leinster.
The ex-schoolteacher himself is in no mood to agree.
"For me I select Irish players: if people want to differentiate, if people want to divide that provincially, that's their prerogative," said Schmidt.
"But as a group we're just trying to select the Irish national team.
"If people are going to be distracted by provincial loyalties, then that's certainly something that's not happening within the group.
"There's been a super unity within the group, and it's probably always disappointing to get criticised.
"I can totally understand the perception, but what I could guarantee is that we have all the stats, we watch all the games, and we try to do as much homework as we possibly can."
User contributions and/or comments do not, unless specifically stated, represent the views of RTÉ.ie or RT&Eacute.
Click here for Terms of use

RTÉ Sport sport headlines