Updated: Monday, 20 Jan 2014 22:41 | Comments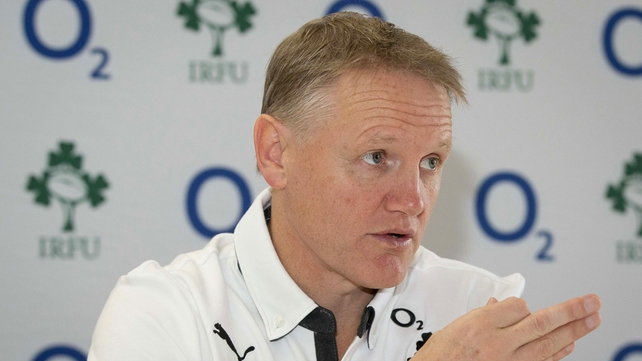 Joe Schmidt and his Ireland squad get their Six Nations campaign underway against Scotland in Dublin on Sunday, 2 February
Ireland coach Joe Schmidt has spoken of the learning curve that the autumn internationals provided him with and looked ahead to the RBS 6 Nations ahead of the start of a two-week training camp at Carton House.
"I learned a little bit about how to structure an international window," Schmidt told the IRFUTV.
"It was all new to me. I learned a lot about some of the players I didn't know so well."
The former Leinster coach stressed the importance of strength in depth ahead of the Six Nations, saying: "I think we'd all acknowledge that there is a need for a real depth.
"We used 29 players in total, but we've already go a few injuries leading into the Six Nations.
"I think the impact of guys coming off the bench suits us very much. It's a 23-man game and that was made rally clear in all three tests.
"It's going to be really important that we try and grow our depth and having both the Wolfhounds and Irish squad combined together will be a good little window this week."
Despite the benefits accrued in the autumn internationals, Schmidt is only too aware of the limitations of such games as a barometer to Six Nations success.
"The one thing I'd probably say is that the autumn series are notoriously bad indicators of Six Nations performance," Schmidt opined.
"Last year England had a big win over the All Blacks and didn't quite manage to get there. France were favourites for the Six Nations last year after an unbeaten autumn and ended up at the tail end. So whatever has been achieved in autumn and whatever momentum we've got, we've now got to work really hard this week to pick up where we've left off and to re-establish that momentum."
Schmidt provided an update on the injury status of Tommy Bowe as he recovers from a groin injury, while the Ireland supremo also expressed his satisfaction at the resolution of a deal securing sidelined Sean O'Brien to a new IRFU contract which will see him remain with Leinster.
"Tommy is making progress. There's no point in having Tommy training when he's unable to train fully, so he's still rehabbing back in Ulster. But there's still the potential for him to be back before the Wales game, but more likely the English game. That way he could get a couple of games for Ulster leading into that.
"It's great that Sean's re-signed. I thought the IRFU handled it really well, and Leinster, that's where he wanted to say and it's great that's where he's ended up.
"I think for the next two years he has a little bit of certainty about what he's going to be doing and where he's going to be based.
"Hopefully in the next four to six months that shoulder comes right and he'll be back flying at people and flying through a few tackles."
User contributions and/or comments do not, unless specifically stated, represent the views of RTÉ.ie or RT&Eacute.
Click here for Terms of use

RTÉ Sport sport headlines