Updated: Tuesday, 31 Dec 2013 10:35 | Comments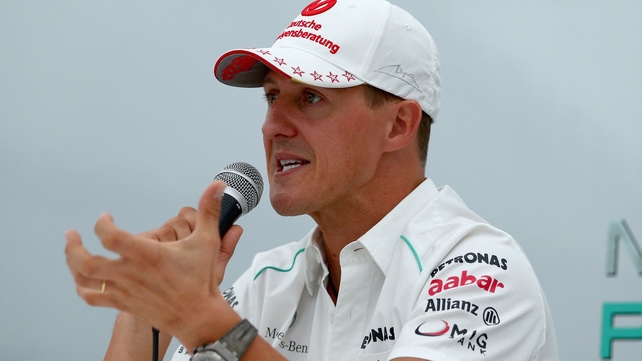 A new brain scan has revealed a more positive update on Schumacher's condition
There has been a "slight improvement" in the condition of former Formula One champion Michael Schumacher, doctors treating him have said.
The 44-year-old German suffered a severe head injury while skiing off-piste in France on Sunday and is currently in a critical condition at the University Hospital of Grenoble. 
Those treating Schumacher reported good news on Tuesday morning at a press conference at the hospital.
"Late in the evening (Monday) a new brain scan was carried out and there was a slight improvement," one of the doctors said.
"The scan allowed us to suggest we could have a new intervention (on the brain) and that took place overnight. A new scan was carried out this morning and this shows slight improvement." 
The doctors added that the procedure they carried out overnight, one designed to ease the pressure on Schumacher's brain, was not one they had initially envisaged.
"We had a transitory improvement of inter-cranial pressure. Michael Schumacher's inter-cranial pressure improved and we were able to carry out the scan without taking a risk," one of the five doctors said.
"That scan showed a few signs that were relatively stable. There were no signs that implied there was a worsening.
"Talking to my colleagues, we felt at the moment that it was possible, taking into consideration his state had slightly improved, that we carried out a surgical intervention that we had not thought possible.
"It allowed us to treat in a more radical fashion to relieve inter-cranial pressure.
"This was carried out in the night. This allowed us to do a new scan and see new images and see the hematoma has been evacutated in a good fashion.
"We have seen a few signs to show the situation is better controlled than it was yesterday." 
User contributions and/or comments do not, unless specifically stated, represent the views of RTÉ.ie or RT&Eacute.
Click here for Terms of use

RTÉ Sport sport headlines