1 of 2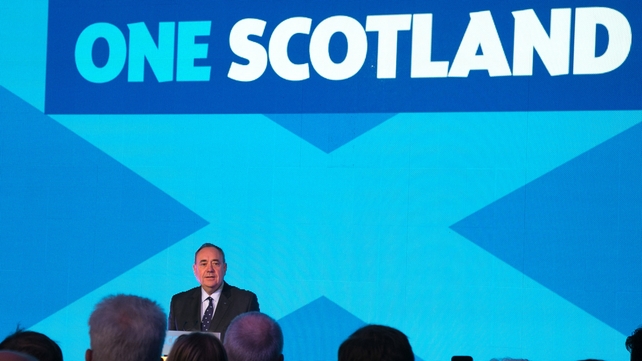 Alex Salmond said he accepted the democratic verdict of the people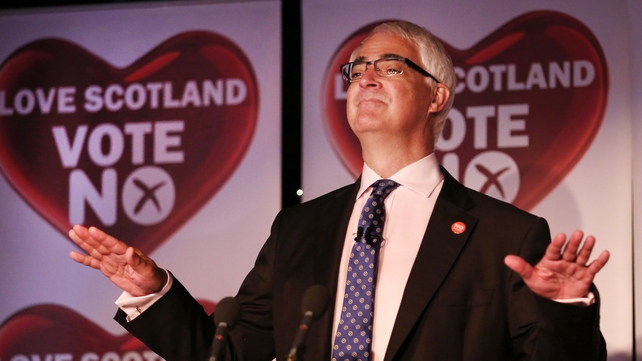 Alistair Darling said it was a 'momentous day' for Scotland and the UK
Alex Salmond is to resign as leader of the Scottish National Party and will quit as First Minister of Scotland after losing the independence referendum.
Just over 55% voted against Scotland breaking away from the United Kingdom, while nearly 45% voted in favour of independence in the historic referendum.
"For me, as leader, my time is nearly over but for Scotland the campaign continues and the dream will never die," Mr Salmond told reporters in Edinburgh.
He said he would not accept the nomination as leader of the party at an annual conference in November and that he would then resign as First Minister.
"I think that party, parliament and country would benefit from new leadership," he said at a press conference.
He added that it had been "the privilege of my life" to serve as head of the Scottish regional government.
Earlier, he called on the leaders of the three main pro-union parties to live up to the promises of further devolution.
He said he accepted "the democratic verdict of the people of Scotland".
He added: "It is important to say that our referendum was an agreed and consented process and Scotland has by a majority decided not at this stage to become an independent country."
Better Together campaign leader Alistair Darling said the referendum result was a "momentous day not only for Scotland but for the United Kingdom as a whole".
He said Scotland had "chosen unity over division and positive change over needless separation".
Attention is now turning to the further powers promised by the British government.
British Prime Minister David Cameron said the draft laws to give Scotland more powers will be published by January.
Speaking at Downing Street this morning, Mr Cameron said it was right to give Scots their say but that the debate has been settled for a generation.
He promised to give Scotland more powers "in the next parliament", but he wants English MPs to have their say over English tax, welfare and spending decisions.
He said it is time for the United Kingdom to come together and move forward.
Liberal Democrat Deputy Prime Minister Nick Clegg said he wanted the coalition government to deliver new powers to Scotland, saying Scots' rejection of independence was a signal for wider constitutional reform across all of Britain.
"I'm absolutely delighted the Scottish people have taken this momentous decision to safeguard our family of nations for future generations," Mr Clegg said in a statement.
"We must now deliver on time and in full the radical package of newly devolved powers to Scotland.
"This referendum marks not only a new chapter for Scotland within the UK but also wider constitutional reform across the Union."
Labour Party leader Ed Miliband said that "change begins today".
He said: "We will deliver on stronger powers for a stronger parliament, for a stronger Scotland."
Mr Miliband said Scotland's decision was a "vote for change" and that having worked to keep the country together, they must now change it together.
He said: "This was a vote for No because we know we are better together.
"To all the people who voted Yes, this Labour Party is determined to show that we can be the vehicle for your hopes, your dreams your aspirations, for a better life for you, a better life for Scotland, a better life for the whole of the United Kingdom."
Kenny hopes Scots heed unity calls
The Taoiseach has said politics is very much alive in Scotland and it has been a clear and decisive decision.
Enda Kenny hoped that people would listen carefully to the words of Mr Cameron and Mr Salmond and support the call for unity.
He said there are implications for Northern Ireland and people there want the institutions to work properly.
Elsewhere, European Union and NATO officials expressed relief at Scotland's clear vote against independence from Britain.
NATO Secretary-General Anders Fogh Rasmussen congratulated Mr Cameron and said he was sure the UK would continue to play a leading role in keeping the US-led defence alliance strong.
Spain's two mainstream national parties welcomed the outcome as showing that the northwestern region of Catalonia would be better off staying in Spain.
Catalonia is expected to announce bitterly opposed plans today for its own independence referendum.
In Brussels, the European Commission said the Scottish vote was good for a "united, open and stronger Europe".
EU officials hope the outcome will strengthen chances of Britain voting to stay in the union in a promised referendum in 2017.
"The European Commission welcomes the fact that during the debate over the past years, the Scottish government and the Scottish people have repeatedly reaffirmed their European commitment," Commission President José Manuel Barroso said.
Elsewhere, US President Barack Obama welcomed the result and congratulated Scotland for its "full and energetic exercise of democracy."
"We have no closer ally than the United Kingdom, and we look forward to continuing our strong and special relationship with all the people of Great Britain and Northern Ireland as we address the challenges facing the world today," Mr Obama said in a statement.

RTÉ News – News Headlines