Updated: Thursday, 27 Feb 2014 08:41 | Comments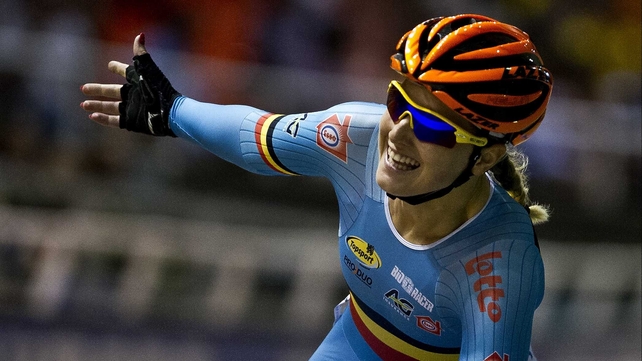 Kelly Druyts took gold
Caroline Ryan finished 14th in the scratch race last night at the Track Cycling World Championships in Colombia's Alcides Nieto Patino Velodrome.
The determined Kildare rider rode a tactical race and looked set to secure a silver medal following a break until she was caught on the last straight.
Belgian rider Kelly Druyts took gold, with Poland's Katarzyna Pawlowski second and Russian Evgenia Romanyuta third.
Ryan was the first of the Irish riders to compete, with the Irish team competing across six events over the four days.
Cycling Ireland head coach Brian Nugent was disappointed for Ryan, saying: "Caroline raced her heart out tonight. She stayed in the right place the entire race, and was active throughout, making good tactical decisions.
"She hit them hard with five laps to go, and got together with the girl from Belgium. It was the perfect move. I was sure that was it."
With 500m left in the race, the main bunch began to close on the break. Nugent said: "Caroline was distanced in the final two laps and got caught by the bunch in the last 100m.
"I'm very disappointed for her, but she's in good shape, and will bounce back for her other events. She came here to compete for medals, and she's done just that."
Racing continues today with Martyn Irvine and Ryan Mullen competing in the Individual Pursuit, with Irvine also racing in the Scratch Race, where he will be racing to defend his world title.
At last year's World Championships, Martyn Irvine won a gold medal in this event, becoming Ireland's first world champion in track cycling in over 100 years. He won the world title within half an hour of winning a silver medal in the Individual Pursuit. Both events are once again on the same day.
Under 23 European bronze medallist in the Individual Pursuit and Scratch Race, Ryan Mullen, will also be competing in the Pursuit on Thursday, having impressed in his senior debut at the World Cup in Mexico this year, where he finished seventh.
User contributions and/or comments do not, unless specifically stated, represent the views of RTÉ.ie or RT&Eacute.
Click here for Terms of use

RTÉ Sport sport headlines