Monday 24 February 2014 09.12
1 of 2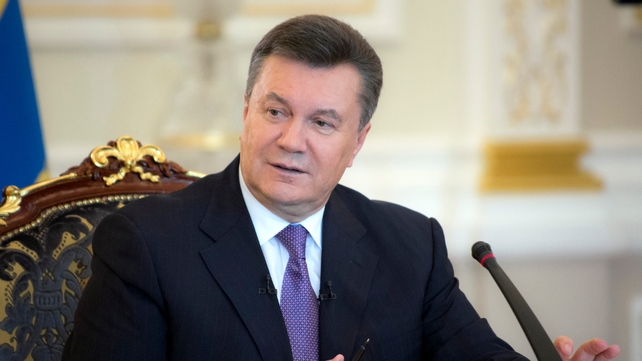 Viktor Yanukovych fled to the Russian-speaking east following dozens of deaths during street protests aimed at toppling him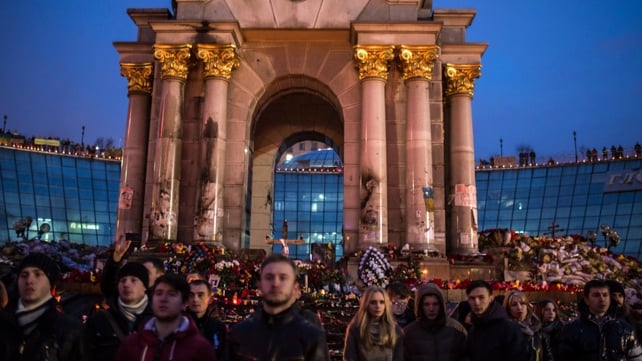 People gather for prayers and to listen to speakers in Independence Square
Ukraine has issued an arrest warrant for ousted president Viktor Yanukovych as the country's new rulers launched a probe over the "mass murder" of protesters in a week of carnage in Kiev.
"Yanukovych and a number of other officials have been put on a wanted list," acting interior minister Arsen Avakov said in a statement posted on his Facebook account.
"A criminal case has been launched over the mass murder of peaceful civilians," he added.
Mr Yanukovych fled the capital on Friday night and was in the pro-Russian Crimea region late last night.
Meanwhile, the United States warned Russia against sending in its forces after Russia recalled its ambassador to Ukraine for consultations in Moscow.
Acting Ukrainian President Oleksander Turchinov said that Ukraine's new leaders wanted relations with Russia on a "new, equal and good-neighbourly footing that recognises and takes into account Ukraine's European choice".
Ukraine's interim leadership has pledged to put the country back on course for European integration.
European Union foreign policy chief Catherine Ashton will travel to Ukraine today, where she is expected to discuss measures to shore up its ailing economy.
A day after Mr Yanukovych fled to the Russian-speaking east following dozens of deaths during street protests aimed at toppling him, parliament named its new speaker, Mr Turchinov, as interim head of state.
An ally of the ousted leader's jailed rival, Yulia Tymoshenko, he aims to swear in a government by tomorrow that can provide authority until a presidential election on 25 May.
Politicians rushed through decisions to cement their power, display their rejection of rampant corruption and bring to account officials who ordered police to fire on Independence Square.
US President Barack Obama's national security adviser, Susan Rice, was asked on US television about the possibility of Russia sending troops to Ukraine, which President Vladimir Putin had hoped Mr Yanukovych would keep closely allied to Moscow.
"That would be a grave mistake," Ms Rice said.
"It's not in the interests of Ukraine or of Russia or of Europe or the United States to see a country split. It's in nobody's interest to see violence return and the situation escalate."
Mr Yanukovych's flight into hiding left Mr Putin's Ukraine policy in tatters, on a day he had hoped eyes would be on the grand finale to the Sochi Olympics.
The Kremlin leader spoke yesterday with German Chancellor Angela Merkel, whose foreign minister had brokered a short-lived truce in Kiev on Friday.
They agreed Ukraine's "territorial integrity" must be maintained, Ms Merkel's spokesman said in a statement.
British Foreign Secretary William Hague was asked if Russia might "send in the tanks" to defend its interests among ethnic Russians in the east and on the Crimea peninsula, where Moscow bases its Black Sea Fleet.
"It would really not be in the interests of Russia to do any such thing," he told the BBC.
Earlier this month, a Kremlin aide had warned that Moscow could intervene.
EU officials have offered financial aid to a new government and to revive a trade deal that Mr Yanukovych spurned under Russian pressure in November, sparking the protests that drove him from office after 82 deaths last week, many from police sniper fire.
In addition to any economic assistance the EU might offer, the US has also promised help.
TOP STORIES

RTÉ News – News Headlines