Monday 21 April 2014 10.41
1 of 2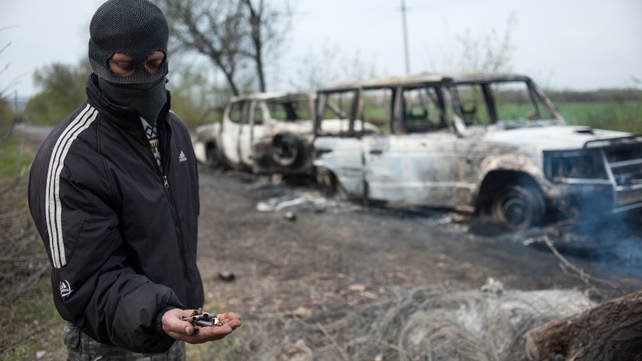 An activist shows ammunition near burned out vehicles in front of a pro-Russian blockade near Slaviansk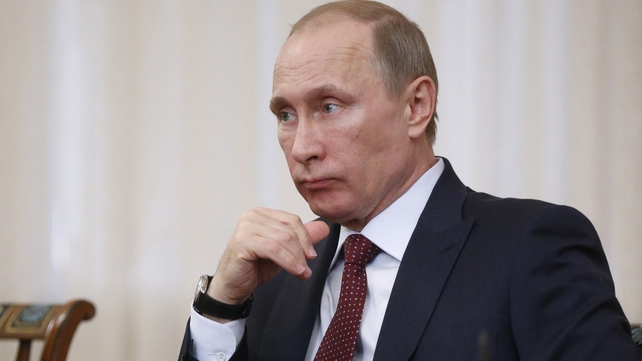 New rules will make it easier for Russian speakers to acquire citizenship
Russian Foreign Minister Sergei Lavrov has accused Ukraine of violating an accord reached in Geneva last week aimed at averting a wider conflict.
The agreement called for an immediate end to violence in Ukraine, where Western powers believe Russia is fomenting a pro-Russian separatist movement, an allegation Moscow denies.
"Steps are being taken – above all by those who seized power in Kiev – not only that do not fulfil, but that crudely violate the Geneva agreement," he said.
Mr Lavrov also told a news conference that a deadly gunfight yesterday near a Ukrainian city controlled by pro-Russian separatists showed Kiev did not want to control "extremists".
A least three people were killed at a makeshift checkpoint near Slaviansk in what Ukraine officials said was a clash between "two groups of citizens".
The Geneva accord also called for illegal armed groups to go home in a process to be overseen by Europe's OSCE watchdog.
However,separatists have shown little sign of quitting public buildings in largely Russian-speaking eastern Ukraine.
              
Mr Lavrov said the Ukrainian authorities had failed to remove illegal protests from squares in Kiev, Ukraine's capital.
              
"This is absolutely unacceptable," he said.
The White House has warned of stronger economic sanctions than those already imposed if Moscow fails to uphold the Geneva deal.
              
"Before giving us ultimatums, demanding that we fulfi ldemands within two or three days with the threat of sanctions, we would urgently call on our American partners to fully accept responsibility for those who they brought to power," Mr Lavrov said.
              
He added that attempts to isolate Russia would fail because it was "a big, independent power that knows what it wants." 
Meanwhile, Russian President Vladimir Putin has approved legal amendments to make it simpler for Russian speakers in the former Soviet Union to acquire Russian citizenship.
The changes follow Russia's annexation of Ukraine's Crimea peninsula and tension in the largely Russian-speaking east of Ukraine. 
US Vice President Joe Biden will meet Ukraine's acting president, Oleksander Turchynov, and Prime Minister Arseny Yatsenyuk in Kiev tomorrow during a two-day stay in Ukraine.
Mr Biden will consult on developments in eastern Ukraine and discuss international efforts to strengthen Ukraine's economy. 
The crisis in Ukraine began late last year when President Viktor Yanukovych turned his back on closer ties with Europe, prompting protests in the capital.
He eventually fled Kiev and a pro-Western interim administration took over.
              
Soon after, Moscow used its military to back separatists in Crimea, before Mr Putin signed a document annexing the peninsula.
The United States and European Union responded by imposing sanctions on Russian officials.
Russia, which has deployed extra troops on the border with Ukraine, says it is not interfering but has an obligation to protect the Russian-speaking community in the east from the rulers in Kiev, who it says are illegitimate, have ties to the far right, and discriminate against ethnic Russians. 
TOP STORIES

RTÉ News – News Headlines