Sunday 09 March 2014 11.45
1 of 2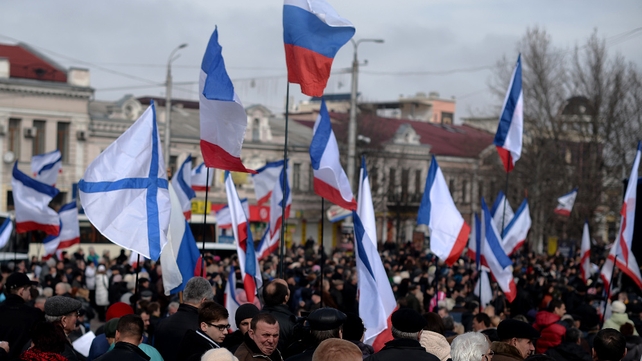 People gather at a pro Russian rally in Simferopol's Lenin Square in Crimea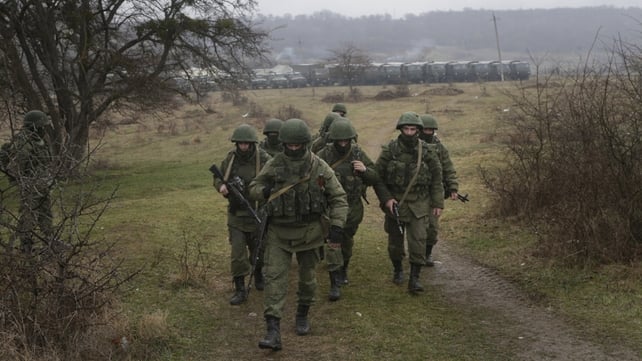 Russian forces have taken over 11 border posts in Crimea
Pro-Kiev and pro-Moscow groups clashed in the Crimean city of Sevastopol following a rally in support of Ukraine's new government.
About 100 pro-Russians with clubs attacked around 20 people who were guarding the rally being held to commemorate the 200th anniversary of poet and national hero Taras Shevchenko.
Speaking at a rally in Kiev, Ukrainian Prime Minister Arseny Yatsenyuk has vowed Ukraine would not give "an inch" of its territory to Russia.
"This is our land. We will not give an inch of it. Russia and its president should know that," Mr Yatsenyuk said.
He also said he will go to the United States this week for consultations on the crisis in Crimea.
In western Crimea, Russian forces have taken control of a Ukrainian border guard post, trapping about 30 personnel inside, a border guard spokesman said.
              
He said the Chernomorskoye base on the western edge of the Back Sea peninsula had been taken over without bloodshed at around 6am (4am Irish time).
              
The spokesman added that Russian forces now controlled 11 border guard posts in Crimea.
              
Russian forces' seizure of the southern Ukrainian region,which began 11 days ago, has so far been bloodless.
Ukrainian troops are trapped in a number of bases but have offered no armed resistance.
Russian President Vladimir Putin declared a week ago that Russia had the right to invade Ukraine to protect Russian citizens, and his parliament has voted to change the law to make it easier to annex territory inhabited by Russian speakers.
Crimea's pro-Moscow authorities have ordered all remaining Ukrainian troop detachments in the province to disarm and surrender, but at several locations they have refused to yield.
In addition to the Russian troops, the province is patrolled by roving bands of "self-defence" forces and Cossacks in fur hats armed with whips, brought in from southern Russia.
Mr Putin launched the operation to seize Crimea within days of Ukraine's pro-Russian President Viktor Yanukovych's flight from the country.
Mr Yanukovych was toppled after three months of demonstrations against a decision to spurn a free trade deal with the European Union for closer ties with Russia.
Russian incursion 'serious miscalculation' – Hague
Russia's incursion in Crimea is a "serious miscalculation" and Moscow could face far-reaching economic consequences unless a diplomatic solution can be found, British Foreign Secretary William Hague said.
Mr Hague said European countries could switch from using Russian gas to supplies from the United States or elsewhere in protest at Moscow's actions.
He said a referendum in Crimea about whether to leave Ukraine scheduled for 16 March would come "ridiculously quick".
"The world will not be able to regard that as a free or fair referendum," Hague said.
Mr Hague also dismissed suggestions that Moscow was oblivious to the West's anger at its actions in Crimea.
"I think they (the Russians) do care about the international reaction to what they've done. That reaction is strong," he said.
Speaking on BBC television, Mr Hague said that unless a diplomatic solution could be found, "there would be far-reaching trade and economic consequences".
Possible measures such as visa freezes and travel bans would "be taken very seriously by the individuals concerned".
"Those are things over time which I think will mean this (the intervention in Ukraine) has been a serious miscalculation."
Although there have been no armed clashes yet, Mr Hague warned that a lack of progress through negotiations would "bring the real danger of a real shooting conflict".
TOP STORIES

RTÉ News – News Headlines