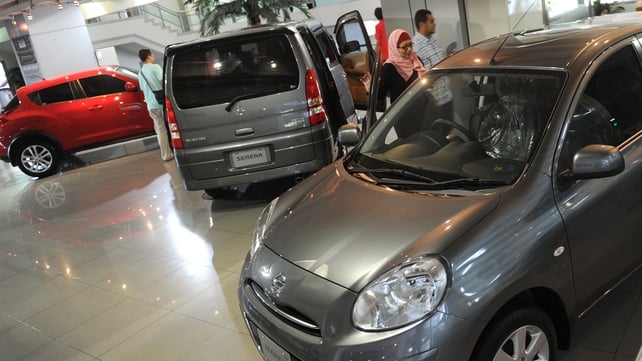 A reduction in the number of cars sold in August drove retail sales volumes lower in the month
Lower car sales in August resulted in a reduction in the volume of retail sales in the month, according to the latest figures from the Central Statistics Office.
Sales volumes were down by 2.9% compared to July, but were up by 0.3% when motor sales are excluded.
However, in the year to August the volume of retail sales increased by nearly 7%, suggesting that a recovery is taking hold in consumer spending.
Excluding car sales, the increase in sales volumes in the year was 3.7%.
Furniture and lighting sales accounted for the greatest increase in the month with volumes up by 11%.
A 4.4% reduction in car sales accounted the overall reduction in the volume of sales in the month.
Dermot O'Leary, chief economist with Goodbody said the figures represented an impressive improvement in sales volumes in the year.
He said the increase in volumes in furniture, lighting and electrical goods was a reflection of the improvement in the housing market.
He points out that deflation continues to feature, but that the weakening in the euro may help offset that in the coming months.
All but two of the categories measured exhibited price declines on an annual basis.
"With the prospect of income tax cuts in next month's Budget, the modest recovery in consumer spending is likely to continue, despite the ongoing drag of a large debt overhang," Dermot O'Leary said.
Merrion chief economist, Alan McQuaid, said the retail sales volumes were not as weak as expected.
He pointed out that while consumer spending remained erratic on a monthly basis, it was well up on the same time last year, which he said was encouraging.
"Although there is still a general air of caution among consumers, there seems to be a view that the worst is over following the downturn of recent years," Alan McQuaid said.
"The strong overall personal spending performance in the first eight months of 2014 augurs well for GDP growth this year, which in our view is now likely to be around 5% in real terms," he added.

RTÉ News – Business Headlines