A new report on housing needs in Dublin has found that 35,000 new homes will be required in the capital between now and 2018 to satisfy demand.
However, the study by the Society of Chartered Surveyors Ireland has said planning approval has been granted for just 26,000 homes, resulting in a shortfall of 9,000 units.
The report found that there are 2,223 hectares of land zoned and potentially available for residential development in the Dublin region.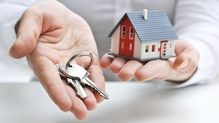 RELATED AUDIO & VIDEO
The zoned land could deliver more than 100,000 additional housing units if needed.
According to the report, there is a minimum housing requirement of just over 35,000 housing units between now and 2018.
The figure is based on a range of factors, including population projections, housing stock, vacancy rates and other factors.
The biggest housing requirement is in the Dublin City Council area, where there is demand for almost 14,000 units, but only planning permission for 1,200 homes.
In the Fingal County Council area, there is demand for almost 10,000 units, while planning permission has been granted for almost 17,000 homes.
The SCSI said a more streamlined planning process is needed to develop houses in the areas of greatest demand.
Speaking on RTÉ's Morning Ireland, Simon Stokes, Chair of the Residential Agency Group of the SCSI, said many planning permissions are old and are not compliant with building regulations.
"Planning permission exists for only 26,000 and within that 26,000 existing planning permissions there may be a higher ratio of apartments to houses," he said.
"The other issue that's going to arise when people try to build these is that many of those permissions are older permissions, which are not compliant with new building regulations, so although there is existing permission for 26,000 units, many of those units may not be suitable or may not be built."

RTÉ News – Business Headlines