Updated: Monday, 28 Apr 2014 16:14 | Comments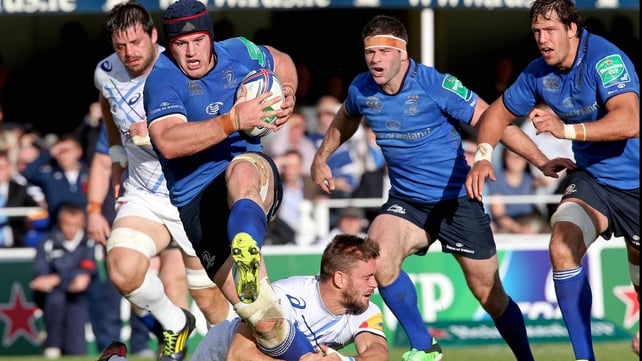 Leinster are being cautious about Sean O'Brien's return from injury
By Padraic Ryan
Leinster's Sean O'Brien is "training very well" and has a "remote chance" of playing this season in the Rabo Direct Pro12 play-offs, but the club are at pains to play down expectations.
A Leinster spokesman said that there had not been any setbacks in O'Brien's recuperation from shoulder surgery. O'Brien needed the surgery after he dislocated his should against Ulster in December.
"He is progressing well as part of a modified training programme and he isn't too far from taking part in team training," the spokesman said.
However, the spokesman stressed that Leinster were not putting any pressure on O'Brien to meet a particular return date, and that there was no chance he would return in the regular season.
There was a "remote chance" O'Brien might play a part should Leinster reach the play-off stages of the Pro12, but his recovery is being taken "session by session".
O'Brien's return would be a huge boost for Leinster and Ireland, the Tullow man having missed the entire RBS 6 Nations and most of the season. However, given the nature of the injury, and O'Brien's rampaging style of play, Leinster are being very cautious.
Asked whether O'Brien would be eligible for Ireland's two-Test tour of Argentina in the summer, Leinster's spokesman said: "We're not even thinking that far ahead".
There was better news for Luke Fitzgerald, who trained on Monday, and who Leinster are hopeful will "be in the mix" for their game against Ulster on Friday.
Eoin Reddan and Fergus McFadden will not be available for the Pro12 inter-provincial derby.
User contributions and/or comments do not, unless specifically stated, represent the views of RTÉ.ie or RT&Eacute.
Click here for Terms of use

RTÉ Sport sport headlines