Monday 17 February 2014 18.28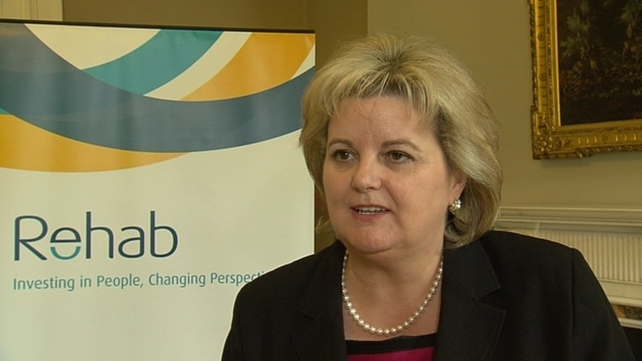 A special board meeting of Rehab discussed Angela Kerins' salary
Rehab Group Chief Executive Angela Kerins is paid an annual salary of €240,000, the group has said.
There is also a 6% payment towards her Defined Contribution pension.
In a statement, following a special board meeting, Rehab said Ms Kerins had voluntarily waived bonuses for the last four years.
She also has the use of a company car for which she pays Benefit in Kind tax.
There is no Rehab contribution towards private health insurance for any staff.
Rehab said that it will publish other senior management salaries in next year's accounts.
The special board meeting followed calls from the Taoiseach and the Minister for Health for the details to be released.
The Rehab Group turns over around €200m a year from its Irish and overseas activities.
It receives over €82m a year from the Health Service Executive and other State agencies.
Last month, Rehab commissioned three independent reports into benchmarking salaries with comparable organisations, how senior salaries might be released and the data protection rights of staff.
The findings of these reports are expected to be released.
Rehab is a Section 39 agency and so it is not obliged to release these details, or comply with public pay policy.
It is expected to be asked to appear before the Public Accounts Committee soon in relation to its State-contracted work.
In today's statement, the board said it was reluctant to publish the details previously for three main reasons.
"Firstly Rehab continuously competes for business at home and abroad with a range of private companies which do not have to disclose such information.
"Secondly, we wanted to receive up to date advice from our legal and remuneration advisors and thirdly we are also acutely conscious of our duty to all of our employees under privacy law and the Data Protection Acts 1998 and 2003."
Fundraising Ireland said Ms Kerins' salary is "out of touch with the realities in the overwhelming majority of not-for-profit organisations in Ireland".
CEO Anne Hanniffy said every day that Rehab had delayed meant the Irish charity was a "day further from restoring vital public trust and confidence."
"The speculation and mistrust that has surrounded this issue for months and years has certainly caused damage to the charity sector and to the people who are so reliant on their work and support," she added. 
TOP STORIES

RTÉ News – News Headlines