Monday 26 May 2014 04.31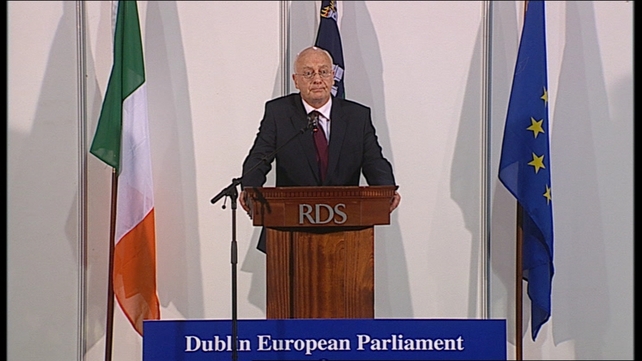 The recount has been ordered for 2pm
A recount has been ordered for the Dublin constituency following the seventh count.
After the seventh count it appeared as if Independent Nessa Childers and Fine Gael's Brian Hayes had taken the two remaining seats following the earlier election of Lynn Boylan of Sinn Féin. 
However, Eamon Ryan of the Green Party has requested a recount.
Entering the divisive seventh count Mr Hayes held a slender lead of 904 votes over Ms Childers, with Mr Ryan a further 504 behind.
The seventh count involved the division of Ms Boylan's surplus of 1,620 votes following the elimination of Fianna Fáil's Mary Fitzpatrick after the fifth count.
Following the seventh count, Mr Ryan was 1,149 votes behind Mr Hayes, who in turn was 193 votes behind Ms Childers.
The recount has been ordered for 2pm.
Earlier Lynn Boylan of Sinn Féin was the runaway leader, securing 83,264 first preference votes, sufficient to secure election after the third count.
Ms Boylan secured 23.6% of total first preference votes, ahead of Mr Hayes on 15.5% and Ms Fitzpatrick on 12.6%.
Ireland South constituency count was suspended at 11pm without reaching a first count, with counting to resume at 9am tomorrow.
Counting in the Midlands North West constituency has been adjourned until 9am and it is expected that the first count results will not be announced until tomorrow afternoon.
The first candidate will likely be elected tomorrow night. At this stage, it is anticipated that the count will continue until Tuesday. 
Combined tally figures for the Midlands North West constituency are suggesting that Independent Luke Ming Flanagan could top the poll at 18.6% in the European election. 
The next closest candidate, in terms of rough tally percentages, is Sinn Féin's Matt Carthy who is estimated to take 18.2% of first preferences. 
These figures, however, were collected when votes were sorted at other count centres throughout the euro constituency yesterday. 
Therefore, they come with a serious health warning as there is no complete tally at the Castlebar count centre today. 
In terms of these figures, Fine Gael's Mairead McGuinness is suggested to be in third place in the tallies with 14.8%.
Ms McGuinness is followed by Independent Marian Harkin at 10.7%, and Fianna Fáil candidates Pat the Cope Gallagher and Thomas Byrne are at 8.9% and 8.5% respectively. 
However, it is estimated from a sample of 40,000 votes at the count in Castlebar this morning that the elimination of Fine Gael's Jim Higgins could benefit Mairead McGuinness, Marian Harkin, and Pat 'The Cope' Gallagher. 
If Labour's Lorraine Higgins is eliminated, her votes could mainly feed through to Marian Harkin. 
The elimination of Ronan Mullen, some political pundits and party activist say, could go Pat 'the Cope' Gallagher's way.
However, some of these votes could also go to Marian Harkin. 
Before these eliminations can happen the breakdown of transfers from lesser candidates could be crucial in terms of who is in the shake up for the last seat. 
Tallymen are predicting a tiny percentage of votes from smaller independent candidates could impact who wins the final seat in the Midlands-North West constituency. 
They say votes from T.J Fay; Mark Fitzsimmons; Fis Nua's Cordelia NicFhearraigh; the Green Party's Mark Deary and Direct Democracy Ireland's Ben Gallagher could amount to four or five percent. 
Tallymen agree on one thing though, the battle for the last seat in the Midlands North West constituency will be a "dogfight".
That dogfight may possibly be between Marian Harkin and Pat the Cope Gallagher. 
With the first count not due until very late tonight or tomorrow it is a case of "wait and see".
TOP STORIES

RTÉ News – News Headlines