Tuesday 11 February 2014 11.30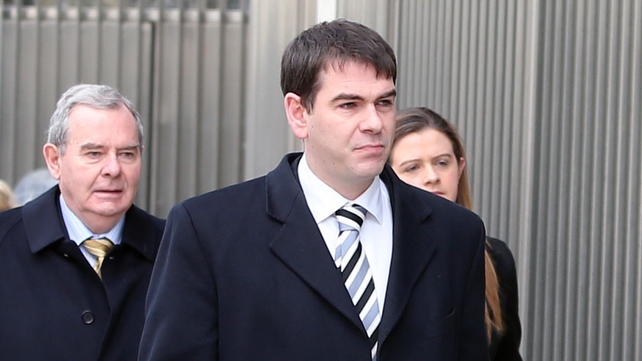 Seán Quinn Jnr gave evidence for a second day
The trial is continuing for a fifth day at the Dublin Circuit Criminal Court of the former chairman of Anglo Irish Bank and two former Anglo executives charged with providing unlawful financial assistance to 16 people to buy shares in the bank.
Seán FitzPatrick, 65, from Greystones in Co Wicklow, 51-year-old Patrick Whelan of Malahide in Dublin and 63-year-old William McAteer of Rathgar in Dublin have pleaded not guilty to the charges.
Mr Whelan has also denied seven charges of being privy to the fraudulent alteration of a loan facility letter.
Seán Quinn Jnr is continuing his evidence today about how loans were taken out in his name to buy shares in Anglo as part of a plan to unwind the position held by his father through high-risk Contracts for Difference.
Mr Quinn Jnr said his family were of the view that the loans were illegal and the security obtained and enforced by the bank was obtained in a fraudulent and illegal manner and should not be enforced.
His sister Collette Quinn said she had absolutely no awareness about the purpose of the loans at the time.
She said she was told by her solicitors a couple of years later that she had taken out a loan to buy shares.
She said she would have signed documents given to her to sign at the time but was not aware of the purpose.
The documents would have been given to her to sign by staff at Quinn companies.
She never met anyone from Anglo Irish Bank nor did she discuss anything.
The first of the so-called "Maple Ten" has told the trial he was told the Financial Regulator and the Central Bank were aware of loans now at the centre of criminal charges.
Developer Sean Reilly is giving evidence about a €45m loan taken out to buy shares in Anglo Irish Bank in July 2008.
He said he was invited by Mr Whelan to a meeting with David Drumm to discuss a proposal to buy bank shares.
He had been a customer of the bank for many years and decided to take up the offer because he felt the bank wanted him to and he saw it as an opportunity to make money.
He was told the offer was part of a scheme to unwind a share position held in the bank but was not told it was Seán Quinn's stake.
He said at a meeting with Mr Drumm he was told the bank had taken legal advice about the loan from Matheson Ormsby Prentice and that the Financial Regulator, the Central Bank "and everybody" was aware of it and wanted it done.
He was told Morgan Stanley would carry out the transaction to buy the shares.
He was told there would be personal liability for 25% of the loan. 
TOP STORIES

RTÉ News – Business Headlines