Updated: Monday, 16 Dec 2013 20:47 | Comments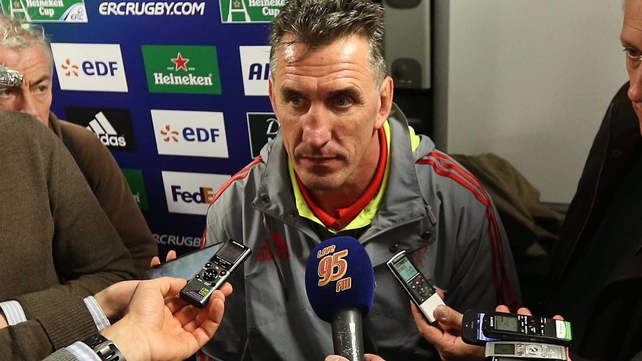 Rob Penney is hoping to land a contract extension with Munster
Alan Quinlan has said Rob Penney will be in a strong position to get a contract extension at Munster if his side qualify from their Heineken Cup pool, despite ongoing criticism of his style.
The province secured a last-gasp win in Perpignan on Saturday evening, with JJ Hanrahan's try in the final play of the match putting them in a strong position to emerge from Pool Six. Munster are also top of the RaboDirect Pro12 with only two defeats to their name so far in all competitions this season.
But despite that record, there are still plenty of people within Munster advocating change.
Penney is currently involved in talks to extend his two-year deal beyond this season.
Asked if he would give the Munster coach an extension to his contract, Quinlan told the RTÉ Sport's The Rugby Show: "Professional rugby is a business and if you take the emotion and the sentiment out of it, it is about getting results. From that point of view, Rob Penney is doing well.
"Munster did not do well in the Rabo last year but they are becoming much more consistent. In that sense they are developing as team and becoming mentally stronger.
"He did not sign a lot of the players, he inherited a team. That is a difficult situation. They have made progress and there is no doubt they are mentally stronger. I just think they can be better.
"I would just love to see them execute more and play to their strengths more. There are varying opinions but it is about results and if they qualify and get to that quarter-final he will be in a strong position to get an extension."
Despite Munster grabbing the win in the final minutes, Quinlan admitted his over-riding emotion after the match was frustration.
He said: "Munster are making it hard for themselves the way they are playing. Their endeavour and effort levels are phenomenal, as is their will to win, but they are making life difficult for themselves with poor kicks, dropped passes, turning the ball over and not taking chances when they present themselves.
"The debate about being a bit lateral with their running has been going on for the last year and a half since Rob Penney came in and in fairness they have a lot of ambition and are trying to develop the side."
Munster are not playing good looking rugby, but Quinlan is adamant that they deserve credit for staying in games and grinding out wins.
"It is about getting that balance right. It is easy for people in the stands or the media to say they should have done things differently, but I think they are a little bit programmed."
"The good news is they are getting the results and winning matches. It is not the most attractive rugby, and there are still some errors and mistakes in there. It shows a lot of resilience and mental strength by the players and the coaching staff and they should get credit for that."
User contributions and/or comments do not, unless specifically stated, represent the views of RTÉ.ie or RT&Eacute.
Click here for Terms of use

RTÉ Sport sport headlines