Saturday 01 March 2014 08.13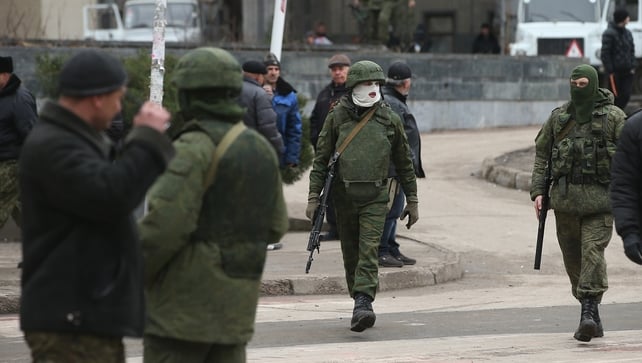 Heavily-armed soldiers without identifying insignia and pro-Russian militants guard the Crimean parliament building
Russia has said it will not ignore a request from the prime minister of the Ukrainian region of Crimea for help in restoring calm to the peninsula, the Kremlin has said.
"Russia will not leave this request without attention," a source in the administration was quoted as saying after the plea from the newly-appointed pro-Russia Crimea premier Sergiy Aksyonov.
"Taking into account my responsibility for the life and security of citizens, I ask Russian President Vladimir Putin to help in ensuring peace and calm on the territory of Crimea," Mr Aksyonov said in an address broadcast in full by Russian state television.
He did not specify what the assistance from President Putin and Russia might involve.
Mr Aksyonov also said that all the security forces in Crimea, which has the status of an autonomous republic within Ukraine, were now subordinate to him.
"I order all commanders to fulfil only my directives. All those who do not agree I ask to leave the service," he added.
His comments came as heavily armed troops in uniforms with no national insignia took up positions around government buildings and the airport in Crimea's main city of Simferopol on Friday.
US President Barack Obama has warned Russia against any military intervention in Ukraine after the country's new leaders accused Moscow of deploying forces in the Crimea region.
Acting President Oleksander Turchinov said Russia, which has a naval base in Crimea, was following a scenario like the one before it went to war with fellow former Soviet republic Georgia in 2008 over two breakaway regions.
The crisis, which began after President Viktor Yanukovych triggered protests by spurning a political and trade deal with the European Union, is stoking tensions in a geopolitical battle between East and West that has echoes of the Cold War.
"We are now deeply concerned by reports of military movements taken by the Russian Federation inside of Ukraine," Mr Obama told reporters in Washington.
"The United States will stand with the international community in affirming that there will be costs for any military intervention in Ukraine."
Any violation of Ukraine's sovereignty and territorial integrity would be "deeply destabilizing," he said.
Mr Obama and European leaders would consider skipping a G8 summit this summer in the Russian city of Sochi if Moscow intervened militarily, a senior US official said.
The G8 includes the world's seven leading industrial nations and Russia, and Russian President Vladimir Putin considers hosting such events as a way to show how far Russia has come since the Soviet Union collapsed in 1991.
Washington's relations with Moscow are already cool because of differences over the conflict in Syria, President Putin's record on human rights and Russia's decision to harbour former US spy agency contractor Edward Snowden.
Russia's ambassador to the United Nations, Vitaly Churkin, dismissed the criticism, saying any movements of its forces in Crimea were in line with agreements with Ukraine.
TOP STORIES

RTÉ News – News Headlines