Saturday 05 April 2014 08.39
1 of 2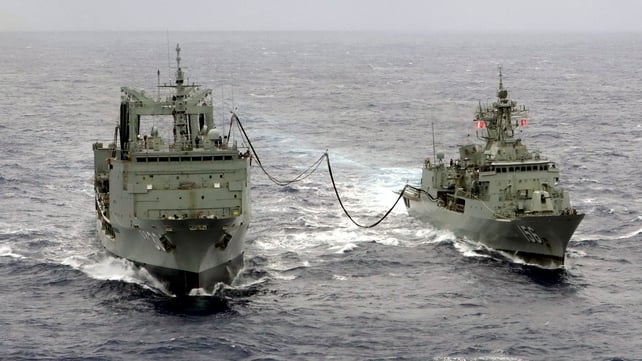 The Australian navy is leading the sea search for the missing plane (Pic: EPA)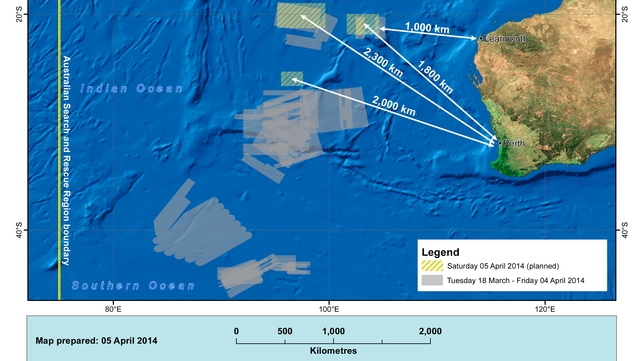 A handout from the Australian Maritime Safety Authority shows the main search areas (Pic: EPA)
Chinese, US and Australian military aircraft took off from Perth International Airport this morning as the hunt for missing Malaysia Airlines Flight MH370 enters its fifth week.
China's Ilyushin IL-76, a US Navy P8 Poseidon and an Royal Australian Air Force Wedgetail aircraft will be joined by eight other military planes, four civilian aircraft and 11 ships in the search.
It will focus on an inhospitable 84,000 sq.m swathe of the southern Indian Ocean about 1,050 miles west of Perth.
No trace of the Malaysia Airlines Boeing 777 has been spotted since it went missing on 8 March, despite a huge search effort.
Time is running out as the plane's black box may run out of battery to send signals indicating its location by Monday.
The weather forecast for today's search is fair with possible showers, the Joint Agency Coordination Centre (JACC) said.
The missing airliner lost communications and disappeared from civilian radar less than an hour into an overnight flight from Kuala Lumpur to Beijing.
It was briefly picked up on military radar on the other side of Malaysia.
Analysis of subsequent hourly electronic "pings" sent to a satellite led investigators to conclude the plane crashed far off the west Australian coast hours later.
TOP STORIES

RTÉ News – News Headlines