Monday 14 April 2014 06.25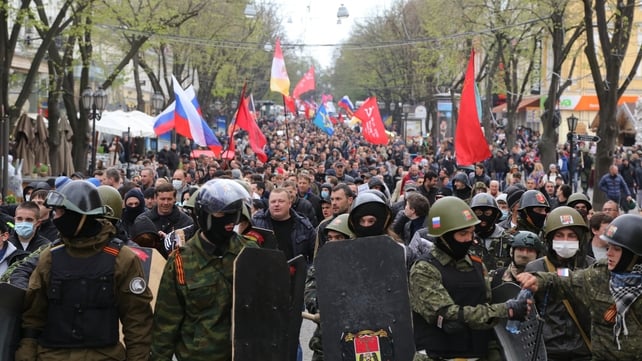 Pro-Russian supporters march during a rally in Odessa, Ukraine (Pic: EPA)
Tánaiste Eamon Gilmore is travelling to Luxembourg today for a meeting of EU foreign ministers which will be dominated by the ongoing crisis in Ukraine.
The Ukrainian government has said it will take military action against pro-Russian separatists who have occupied regional offices in the east of the country.
Such a move could trigger a second military intervention by Russia.
The heightened tension follows the death of a Ukrainian security official during clashes, and reports that uniformed soldiers without insignia, similar to those involved in the annexation of Crimea, seized a police building following a shootout, in the east.
Throughout this crisis the prospect of the EU imposing broad economic sanctions against Moscow has depended on whether or not Russia invades or further destabilises the east of Ukraine.
EU foreign ministers may add more names, pro-Russian Ukrainian figures, to a list of individuals who will face travel bans and asset freezes.
Many European capitals want to keep channels of communication open with Moscow.
However, the US has declared that the latest clashes are deliberately being orchestrated by the Kremlin as a pre-cursor to some kind of Crimea-style intervention.
The EU is being briefed by OSCE monitors on the ground in eastern Ukraine, as well as receiving military intelligence reports, so foreign ministers will be able to draw conclusions from what is happening.
But with a meeting involving the US, Russia the EU and Ukraine scheduled for Thursday any serious accusations could prevent those fragile talks from getting under way.
TOP STORIES

RTÉ News – News Headlines