Thursday 27 February 2014 07.18
1 of 3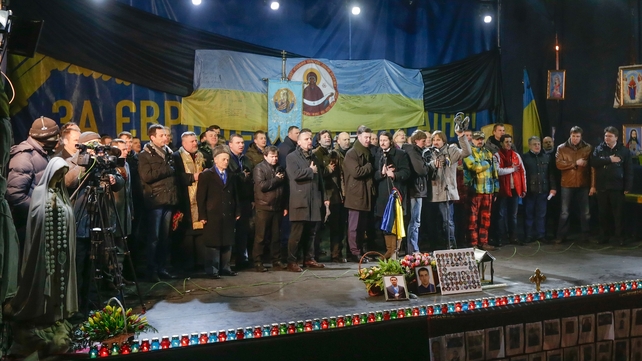 The new ministers were announced to the crowd in Independence Square in Kiev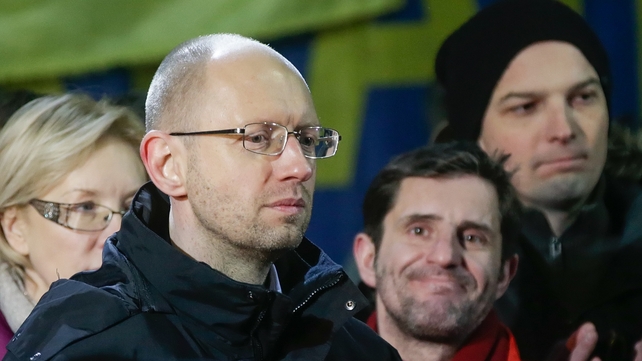 Arseniy Yatsenyuk said Ukraine is 'on the brink of a disaster'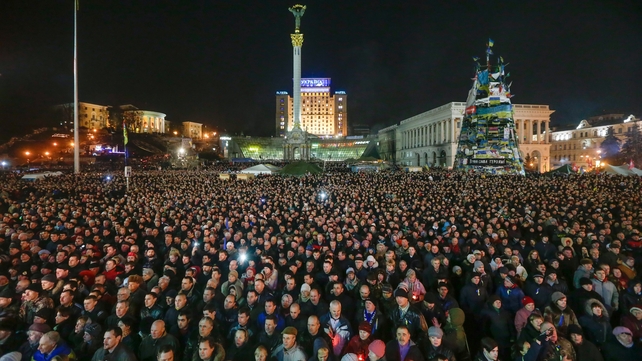 The square was the scene of some of the most violent clashes
Armed pro-Russian gunmen are in control of the parliament and government headquarters in the Ukrainian region of Crimea, the regional prime minister has said.
Crimean premier Anatoliy Mohilyov confirmed that up to 50 men with weapons seized the buildings during the night, raised the Russian flags over them and were blocking government workers from entering.
Local authorities were preparing to "take measures", Mr Mohilyov said without adding any more details. 
Meanwhile, the Ukrainian parliament is set to vote on the country's new government, with the new leaders warning of "unpopular steps" to stabilise the country.
The new ministers were announced to the crowd in Independence Square in Kiev last night.
The square was the scene of some of the most violent clashes in the turmoil that led to the ousting of Viktor Yanukovych as president.
The speaker of the parliament, Oleksander Turchynov, was named interim president in place of Mr Yanukovych at the weekend.
He warned the crowd that the new government will have to take some unpopular decisions.
"I want to say this government will have to pass unpopular decisions. Not those decisions that populists were shouting about," he said.
"These will be the decisions that will stop Ukraine from defaulting, decisions that will regain the trust of investors and creditors, decisions that will provide a normal life for the Ukrainian people.
"The government will be criticised, treated like dirt, they will be beaten, but they must fulfil their obligations and work to the bone for the sake of Ukraine."
Prime minister designate Arseniy Yatsenyuk told the BBC that the main challenge was to stabilise the country.
"We are on the brink of a disaster and this is the government of political suiciders. So welcome to hell," he said.
Elsewhere, it is reported that armed men have seized the regional government building and the parliament building in the southern region of Crimea.
The building was the scene of a confrontation yesterday between pro-Russian separatists and supporters of the country's new leaders.            
A concerned Russia yesterday put 150,000 troops on high alert in a show of strength.
Russian President Vladimir Putin ordered the soldiers to be ready for war games near the border with Ukraine.
TOP STORIES

RTÉ News – News Headlines